a
Naval Forces News - USA
U.S. Navy Next SSBN Class - Ohio Replacement / SSBN(x) - Will Be Called Columbia-class
During a ceremony Dec. 14 at the District of Columbia city hall, Secretary of the Navy Ray Mabus formally announced the first ship of the new fleet ballistic missile submarines (SSBN), formerly known as the Ohio-class replacement, will be named USS Columbia (SSBN 826) in honor of the District of Columbia.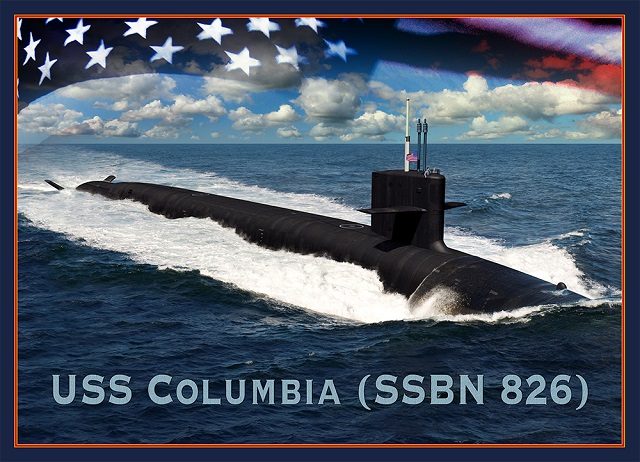 WASHINGTON (Dec. 14, 2016) A graphic representation of the future USS Columbia (SSBN 826). (U.S. Navy photo illustration by Petty Officer 1st Class Armando Gonzales/Released)
Ballistic missile submarines are critical, stabilizing and efficient elements of the U.S. nuclear deterrence and assurance policy, carrying the majority of deployed U.S. nuclear warheads. Columbia-class SSBNs incorporate advanced technology and will provide the most survivable leg of the Nation's strategic triad.

According to the US Navy, the mission of the Ohio Replacement will be Sea Based Strategic Deterrence:
Replacing Ohio SSBN class, rehosting TRIDENT II D5 (LE) missile system, providing the most survivable leg of the Nation's strategic triad.

Key facts of Ohio Replacement as provided by NAVSEA:
» The Ohio Replacement is the US Chief of Naval Operations number one acquisition priority.
» SSBNs are critical, stabilizing and efficient elements of US Nuclear deterrence and reassurance.
» The current Ohio class SSBN force is reaching the end of its operational life and must be replaced to meet the continuing mission requirements of USSTRATCOM.
» The Ohio Replacement will perform the same mission of today's Ohio class with two fewer ships at $40B in acquisition and life-cycle savings.
» The Ohio Replacement is being designed to have a longer service life, better availability and better survivability than their predecessors.
Our video on Ohio Replacement / Columbia-class SSBN during Sea Air Space 2016
Mabus also announced that the next ship in the John-Lewis class of fleet replenishment oilers, named in honor of U.S. civil rights heroes, will be named USNS Earl Warren (T-AO 207).

The future USNS Earl Warren will be operated by Military Sealift Command and provide underway replenishment of fuel and stores to U.S. Navy ships at sea and jet fuel for aircraft assigned to aircraft carriers. Construction is expected to begin on the Earl Warren in 2019.

The final ship named during the ceremony was the future USNS Puerto Rico (T-EPF 11). The Expeditionary Fast Transport (EPF), formerly named the Joint High Speed Vessel (JHSV), is a shallow draft, all aluminum, commercial-based catamaran that is designed for High Speed Intra-Theater Surface Lift and serves in a variety of roles for the military branches to include support of overseas contingency operations, conducting humanitarian assistance and disaster relief missions and supporting special operations forces.