a
Naval Industry News - Russia
Russian Navy Ivan Gren Class Landing Ship (Project 11711) in Degaussing Ahead of Sea Trials
Recent images show the Russian Navy Project 11711 Ivan Gren tank landing ship in degaussing operations at the Yantar Shipyard in Kaliningrad. Degaussing or deperming is a procedure for erasing the permanent magnetism from ships and submarines to camouflage them against magnetic detection vessels and marine mines.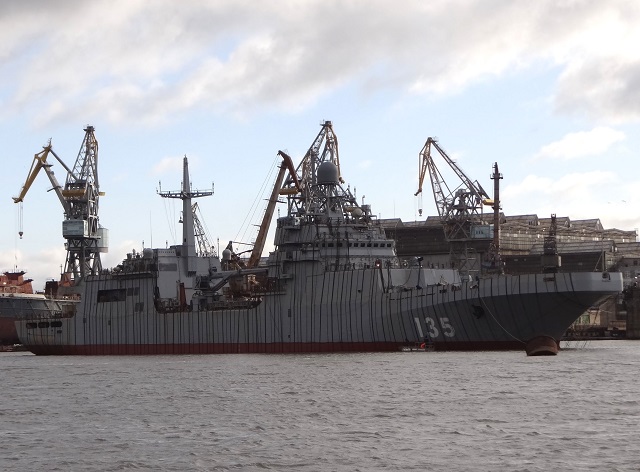 Lead Ship of Project 11711 Ivan Gren Large Amphibious Assault Ship during demagnetization.
Picture taken 05/02/2016: Drakon 64 / forums.airbase.ru
Ivan Gren is set to strat trials at sea before the end of February.
Video showing Ivan Gren getting prepared for sea trials
The Project 11711 Ivan Gren large landing ship is designed for landing Marines on enemy-held beachheads and carrying combat and other hardware. In peacetime, it is designed for humanitarian relief operations. The ro-ro ship provides unimpeded stern-to-bow passage of armored and wheeled vehicles on the tank deck. The Ivan Gren has a twin-island superstructure, with the stern island housing a hangar designed for a helicopter. Owing to a sliding device, the hangar's length can be increased to accommodate two helicopters, if need be. The hull and superstructure are made of steel. The ship is designed to carry 13 tanks or 36 armored personnel vehicles and 300-380 Marines as well. It can haul 1,500 tons of cargo instead of Marines. The Ivan Gren can carry one or two Kamov Ka-29 (Helix) assault transport helicopters. A Ka-52K (Hokum-B) carrierborne helicopter can be accommodated too. The ship has two 122-mm A-215 rocket launchers, two 100-mm A-190 guns and two 30-mm AK-630M antiaircraft guns and displaces a total of 5,000 tons. Its length is 120 m and beam 16.5 m. The Ivan Gren has a speed of 18 knots, an endurance of 30 days and a crew of 100.