a
Naval Forces News - Italy
Admiral Valter Girardelli is the new Chief of the Italian Navy
The handover/takeover ceremony took place on July 12, 2016 between Vice Admiral Giuseppe De Giorgi (outgoing) and Vice Admiral Valter Girardelli (upcoming). Following a wreath laying at the Altar of the Homeland and accompanied by the performance of the Italian Navy Band, the Chief of Navy handover ceremony was held in the presence of the Italian Defence Minister, senator Roberta Pinotti, the Defence Chief of Staff, General Claudio Graziano, the Minister of the Interior, Honorable Angelino Alfano, and top civilian and military authorities.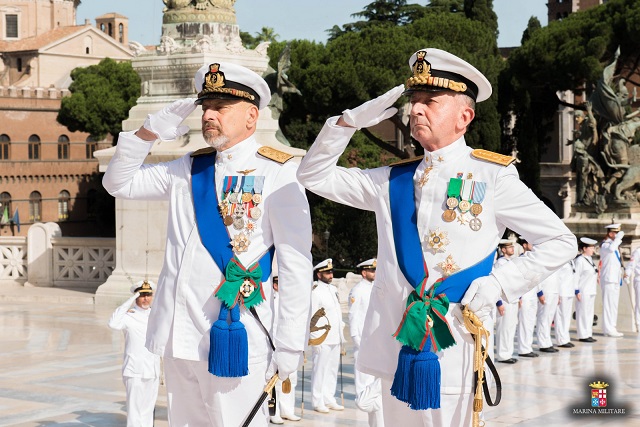 Vice Admiral Giuseppe De Giorgi (outgoing/left) and Vice Admiral Valter Girardelli (upcoming/right)
This solemn ceremony reached its climax with the meaningful and symbolic raising of Admiral Girardelli's flag on the yard at the centre of the large square in front of Palazzo Marina.

The handover of command marks a turning point for the Italian Navy, that in the last three and a half years has undergone major changes. "I bequeath a more modern Navy, integrated into the civil society", pointed out Admiral De Giorgi in his farewell address.

At the end of 45 years of service, Admiral De Giorgi hands over to Admiral Girardelli, who, delivering his inaugural address, stressed his total dedication and commitment to the incoming Navy leadership: "I will be fully, proudly and passionately committed for the sake of the Italian Navy and our country".