a
Naval Industry News - Spain
Spanish MoD Approved the Critical Design Review on Navantia S-80 Submarine

An expert panel of the Spanish Ministry of Defense has approved the Critical Design Review (CDR) of S-80 class diesel-electric submarines (SSK) being built by Navantia shipyard in Cartagena. This is a major step for the future of the program since the submarine re-design is now validated and frozen and the programme can transition back to production.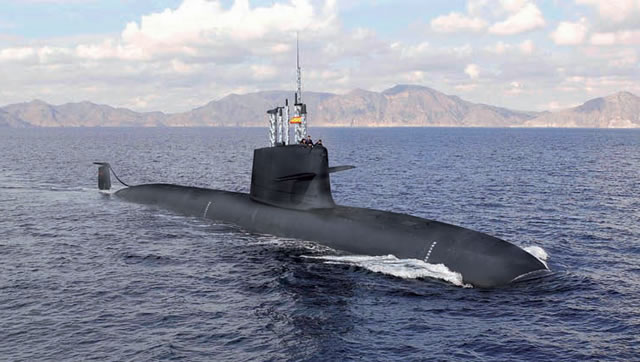 Computer rendering of an S-80 class SSK. Image: Navantia
The S-80 class (or Isaac Peral class) are AIP (air independent propulsion) submarines currently under construction for the Spanish Navy. Four boats have been ordered, three of which are under construction by Navantia at its yard in Cartagena.

Construction of the submarines had been suspended in early 2013, when it was found that the first submarine in the series, the Isaac Peral, was 75 to 100 tons too heavy relative to its length. General Dynamics Electric Boat was brought in by Navantia through a Foreign Military Sale in 2013 to tackle the weight distribution issues.

Each submarine has been stretched with a 10 meters ring to better distribute the weight of the submarine and prevent it from sinking. A pressure hull ring was inserted into the hull of each submarine. This is a necessary (and the first) step to correct the "related to weight balance disparities".

The intended delivery date of the first submarine is 2018.