a
Naval Defense News - Australia
Raytheon Completes CEC Design & Testing for 1st Australian Air Warfare Destroyer HMAS Hobart
Raytheon Company has completed design, development and testing of its Cooperative Engagement Capability system, which will be certified by the U.S. Navy for the system's first international installation. Onboard the Royal Australian Navy's HMAS Hobart, CEC will expand the ship's battlespace awareness by sharing sensor data among a network of other Australian and allied CEC-equipped ships and aircraft.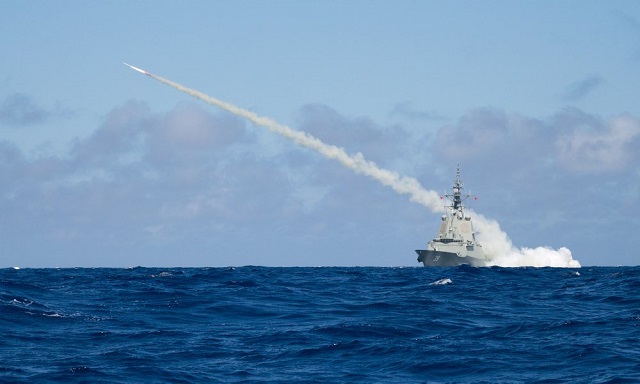 Air Warfare Destroyer HMAS Hobart successfully fires a Harpoon Blast Test Vehicle in the East Australian Exercise Area, proving the capability of the ship to launch Harpoon missiles. RAN file picture.
CEC is a real-time 'sensor-netting' system that brings together radar data into a single integrated air picture from geographically dispersed ships, aircraft and ground-based units. This integrated picture improves task force effectiveness by enabling longer range, cooperative, or layered engagements. Today's CEC benefits from advancements in commercial and specialized technologies, as well as from the experience and expertise the Raytheon team has gained throughout more than 30 years as the U.S. Navy's CEC Design Agent.

"The addition of CEC is a major building block for Australia in their defense against anti-air warfare threats in the Pacific Region," said U.S. Navy Captain Jonathan Garcia, CEC major program manager, Program Executive Office Integrated Warfare Systems 6.0. "This delivery to Australia marks a significant first – expanding the CEC network globally and increasing the U.S. Navy interoperability with a valued, strategic ally."

The equipment - certified hardware and software - will transfer to Australia for installation on HMAS Hobart (DDG-39), and NUSHIP Brisbane (DDG-41) over the coming months, followed by an extensive integration, test and evaluation period. Raytheon will actively support CEC system integration and testing, including scheduled sea trials, similar to support provided for the U.S. Navy fleet.

Enhancing the capabilities of U.S. forces, CEC is currently deployed on ships and land-based test sites, E-2C/D aircraft, and U.S. Marine Corps network systems. The system continues to evolve, advancing capability and affordability through developments in core technologies.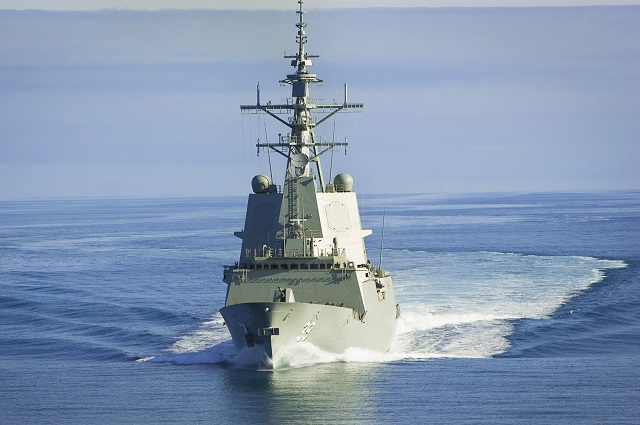 The first Air Warfare Destroyer HMAS Hobart during sea trials
About the Hobart class (AWD):
Three AWDs are being built for Australia's specific defence needs and will provide a significant increase in Australia's defence capabilities. The AWDs will provide greater protection for ADF personnel by providing air defence for accompanying ships as well as land forces and infrastructure on nearby coastal areas. The AWDs will also provide self-protection against attacking missiles and aircraft.

The Aegis Weapon System incorporating the state-of-the-art phased array radar, AN/ SPY 1D(V), in combination with the SM-2 missile, will provide an advanced air defence system capable of engaging enemy aircraft and missiles at ranges in excess of 150 kilometres.

The AWDs will also carry a MH-60R Seahawk 'Romeo' naval combat helicopter for surveillance and response to support key warfare areas. The surface warfare function will include long range anti-ship missiles and a naval gun capable of firing extended range munitions in support of land forces. The AWDs will also be able to conduct Undersea Warfare and will be equipped with modern sonar systems, decoys and surface-launched torpedoes.

Coupled with an array of close-in defensive weapons, all of these capabilities ensure the AWDs have the layered defensive and offensive resources required to win the battle against 21st century conventional and asymmetric threats.

Australia's first Air Warfare Destroyer (AWD) HMAS Hobart was commissioned in to the Royal Australian Navy fleet in a formal ceremony at Garden Island in Sydney on September 23 2017.