a
Naval Forces News - Russia
Brown-water warships to become priority for Russian navy development - part 2
Russia is losing perspectives as a global sea power. Such conclusions can be drawn from official Defense Ministry statements about navy development priorities in the coming ten years. The so-called brown-water or inner maritime zone warships are to become a priority, expert Alexander Shishkin writes in the Vzglyad business daily.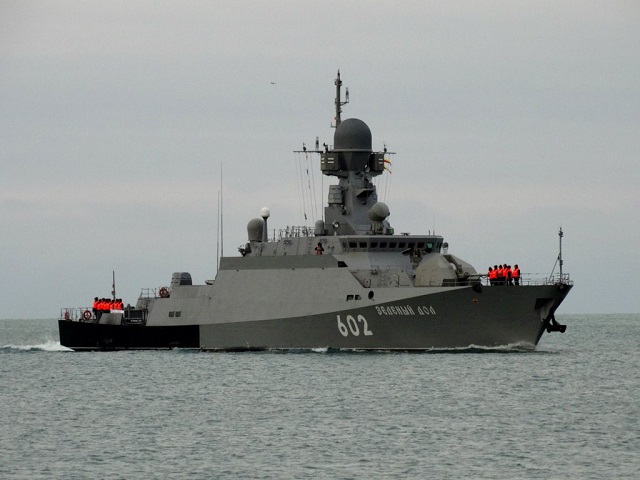 Project 21631 Buyan-M-class small missile ship (corvette) Zelyony Dol.
In the absence of naval bases or logistical points abroad the brown-water warships with high-precision cruise missiles, the construction of which is envisaged by the state arms program for 2018-2027, will comprise the backbone of coastal defense. The whole navy risks developing into such a force if its leadership comprises ground-minded people. Another mission of brown-water ships will be nuclear and non-nuclear deterrence in the range of 3M-14 cruise missile Kalibr (2500 and 1500 km respectively). It makes it unnecessary to leave the Baltic, Black, Barents Seas and the Sea of Japan (and SSBN of project 995 do not have to sail far away from Gadzhievo and Vilyuchinsk bases). The new Russian "mosquito fleet" will stay at home and target with intermediate missiles the whole of Europe, the Middle East, Japan, South Korea, and, if something goes wrong, Beijing, Shanghai and Hong Kong.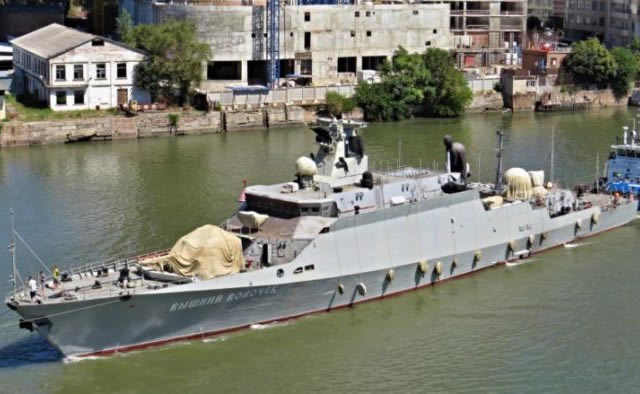 The new Project 21631 Buyan-M-class corvette (small missile ship) Vyshniy Volochek to be delivered to the Pacific Fleet before the end of 2017. Picture via fleetphoto.ru
However, capital ships comprise the backbone of the naval might of a country. There is no general interpretation of the definition but it would be logical to list nuclear and non-nuclear submarines (except for special-designation U-boats), aircraft carriers, cruisers, destroyers, frigates and landing ships, i.e. everything that brings force to distant world areas. All other warships are referred to waterway area defense or the so-called brown water.

At present the average age of capital warships of the Russian navy has exceeded the psychological barrier of 25 years and reached an average of 25.3 years. The share of new ships below ten years of age comprises only 17 percent (17/103) if we count them by units although it is not correct as it gives the same specific weight to an aircraft carrier and a corvette. If counted by full displacement the share falls to 11 percent which radically differs from 53 percent of modern naval armaments announced by Chief of General Staff Valery Gerasimov at a meeting of the Defense Ministry leadership on November 7. He has likely counted every vessel, including boats and harbor tugs.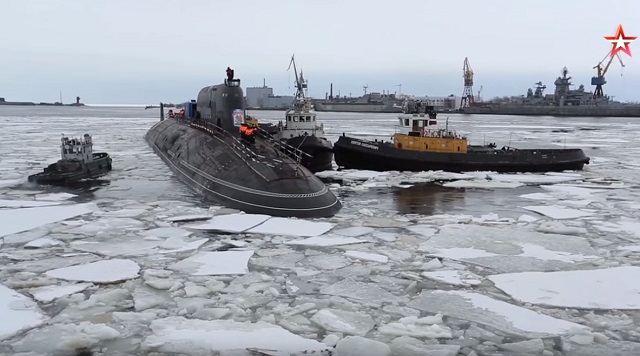 K561 Kazan is the first Project 885M / Yasen-M class SSGN of the Russian Navy

At the end of the state arms program for 2018-2027 the figures will comprise 27.6 years of age and the share of new warships by displacement - 22 percent. That will happen in case the Soviet heritage is preserved and the minimum program is fulfilled to hand over to the navy five SSBN of project 955A, six SSGN of project 885M, four diesel-electric U-boats of project 667 and six of project 636.3, four frigates of project 22350 and four of project 11356, one corvette of project 20386, two of project 20385 and five of project 20380, and two big landing ships of project 11711.

Thus, the main naval force will be ageing because of the construction of brown-water warships (although it should be otherwise) while the number of new combat units will increase only insignificantly. It remains to hope that after another dark period for the Russian navy they will succeed to lay down new aircraft carriers and destroyers. In this case we shall begin to renew green-water warships by the middle of the 2030s. Before that the same eight big landing ships of project 1155 and three cruisers of project 1164 which will be 48 years old by late 2035 will have to operate and demonstrate the flag in green waters.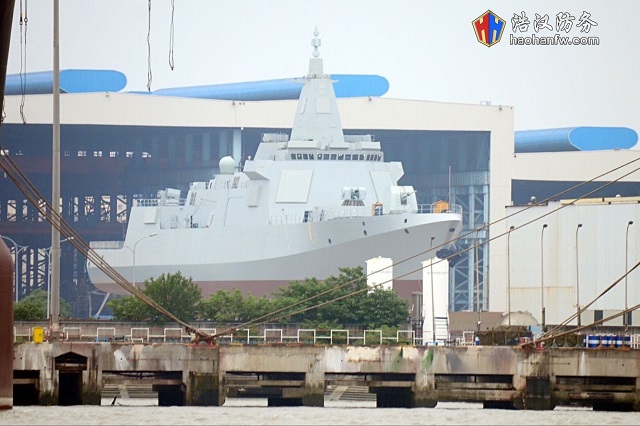 By 2028 China will commission two new aircraft carriers, at least four guided missile destroyers of Type 055 (pictured) and other warships
.

One can say the decision to focus on brown-water warships is caused by financial problems of the country and its armed forces. But we are daily told that the economic situation in Russia is stabilizing and defense appropriations fell only inconsiderably at the expense of arms and types of forces which have been already armed with new weapons and hardware (ground, aerospace, strategic missile and airborne forces). If financial problems really exist, they are likely caused by redistribution of appropriations.

It is unfortunate that in a quarter of a century since the collapse of the USSR Russia has failed to begin renewing the green-water surface naval force. A shameful result of our foot dragging is that Russia would in the near future lose the second position among the leading naval powers which we shared with China in early 2017 with a difference of only 1.3 percent by total displacement of capital warships. By 2028 China will commission two new aircraft carriers, at least four guided missile destroyers of project 055 and other warships, expert Alexander Shishkin writes in the Vzglyad business daily.


© Copyright 2017 TASS. All rights reserved. This material may not be published, broadcast, rewritten or redistributed.

Link to part 1 of this article