a
Naval Industry News - Russia
Pierside Testing started on Russia's New Project 955A SSBN Knyaz Vladimir
Berthing tests have started on the Knyaz Vladimir Project 955A (code Borey-A) nuclear-powered ballistic missile submarine (SSBN), a source at the Russian Military Industrial Complex (MIC) has told the TASS news agency.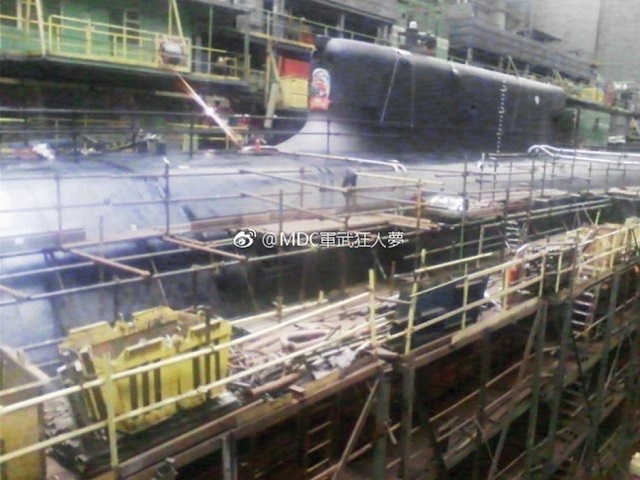 Whereas the original Project 955 fin exhibits a distinctive forward slant at the leading edge, 'Knyaz Vladimir' has a more traditional blunt fin leading edge but with a faired step at the base to reduce hydrodynamic flow noise

. Picture via Covert Shores.

"Removed from the pen and launched on November 17, the Knyaz Vladimir has the other day started berthing tests. Those are due for completion early in the new year," the source said to the agency.

TASS has no official confirmation of the said information.

The berthing tests are part of the acceptance trials conducted in the shipyard's water area. Construction of the boat is being completed and her main equipment checked. This includes preliminary tests of the main power plant. Following the berthing tests, the Knyaz Vladimir will start sea trials in spring. The source specified that at the final stage of acceptance trials, due to take place in summer through autumn, the submarine will fire at the Kura test range in Kamchatka peninsula, using her main weapon, Bulava missile.


Project 955A compared to the previous 955 variant. Picture via Covert Shores.

Project 955 SSBN is the fourth generation submarine designed for neutralizing, with an outbreak of a war, the enemy's strategic land-based facilities and performance of tactical missions, including the struggle against water-borne and submerged targets. The SSBN design employs the latest achievements in the ship-borne electronic equipment and innovative solutions that improve the hull hydrodynamics and significantly reduce noisiness. The boats' main weapon, the new R-30 Bulava missile system, has a range of more than 8,000 km and can carry multiple independently targetable re-entry vehicle (MIRV) warheads. Each Project 955 SSBN can carry 16 solid fuel intercontinental ballistic missiles (IBM). The submarine is equipped with a floatable rescue chamber for an entire crew. The boat is 170 m long, 13.5 m wide. The diving depth is 450 m, crew 107 men.

© Copyright 2017 TASS. All rights reserved. This material may not be published, broadcast, rewritten or redistributed.