a
Naval Defense News - UK
BAE Systems wins JSS 2 fleet-wide CMS support contract for Royal Navy
BAE Systems has been contracted by the Ministry of Defence's (MOD) Maritime Combat Systems (MCS) team to ensure the combat management systems, tactical networks and shared infrastructures aboard 38 Royal Navy platforms will remain available, coherent, safe and secure.

The Joint Support Solution 2 (JSS 2) programme will maintain high levels of equipment availability, overcome obsolescence, and improve combat systems reliability and flexibility, building on the success of the original Joint Support Solution (JSS) contract signed in 2010.

JSS supported essential combat systems through a dedicated ship support team providing repairs, technology refreshes and spare parts for the Royal Navy's Type 23 frigates, landing platform dock (LPD) and HMS OCEAN, the RFA ARGUS, and Mine Counter Measure Vessels (MCMVs). JSS 2 extends the support model to deliver the same benefits to the Type 45 destroyers and the Queen Elizabeth Class (QEC) aircraft carriers.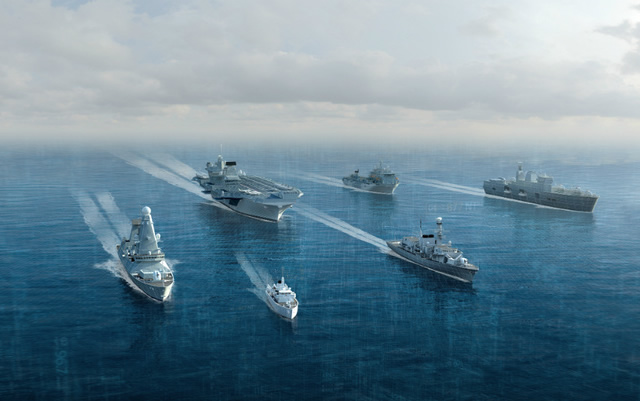 The JSS 2 contract falls within the Common Support Model, which will provide a framework for comprehensive support across the entire Royal Navy fleet of warships for decades to come in one new overarching arrangement.

Supporting the Common Support Model

The JSS 2 contract falls within the Common Support Model, which will provide a framework for comprehensive support across the entire Royal Navy fleet of warships for decades to come in one new overarching arrangement.

Benefiting from the MOD's ongoing investment in the Type 26 Global Combat Ship programme, and building on the Shared Infrastructure (SI) systems being installed on the Type 23s, River Class Batch 2 Offshore Patrol Vessels, LPD and Landing Platform Helicopter (LPH) classes, JSS 2 will deploy the next generation of the MOD's Shared Infrastructure onto the Type 45 and QEC ships.

This evolution of the Shared Infrastructure product line will introduce a new, agile run time environment under MOD control that allows the rapid assessment, trials and deployment of new and emerging capabilities, accelerating the route to operational use whilst reducing the installed hardware footprint and through life costs.

The JSS 2 contract, worth around £200 million, will run until the end of March 2024 and will see around £50 million invested into 27 core suppliers across the UK, including 14 SMEs, for hardware, software and logistical support.

More than 100 BAE Systems employees at the company's Broad Oak (Portsmouth), Frimley, New Malden and Yeovil offices will be engaged in a seven year programme of work, providing the Royal Navy and MCS with specialist engineering capability and skills.

Richard Williams, BAE Systems Naval Ships Combat Systems Director, said: "The Joint Support Solution contract delivered high levels of combat systems availability to the Royal Navy's fleet and provided the Ministry of Defence's Maritime Combat Systems team with specialist support. The new JSS 2 contract builds on that pedigree, for more platforms and equipment, and drives greater value from MOD's investment in the Type 26 Global Combat Ship to achieve fleet-wide combat systems benefit and the Defence Equipment & Support Agency's Combat Systems Coherence Strategy."

Sir Simon Bollom, Chief of Materiel (Ships) for Defence Equipment and Support, the MOD's procurement organisation, said: "Our surface fleet is made up of some the most advanced and capable fighting ships in the world. HMS Queen Elizabeth, the Royal Navy's newest and most advanced Aircraft Carrier, will join the fleet soon and the Common Support Model will provide a framework that will deliver effective support to the Royal Navy's warship fleet at home and around the globe."

"The innovative, ambitious and far-reaching Common Support Model, which will drive efficiencies and greater availability, has been made possible by the enduring and strong relationships which exist between the Ministry of Defence, the Royal Navy, and our industry partners."