a
Naval Forces News - USA
USS Coronado completes maintenance, prepares for joint exercises & maritime security operations
By MC2 Amy M. Ressler, USS Coronado Public Affairs
Littoral combat ship USS Coronado (LCS 4) headed out to sea from Changi Naval Base, Jan. 31, after completing a maintenance availability in port. While at sea, Coronado Sailors will conduct flight operations, small-caliber action team training and engineering operational testing. The underway follows a successful in-port maintenance availability where the ship conducted corrective maintenance as well as more than 900 preventive maintenance checks throughout the ship.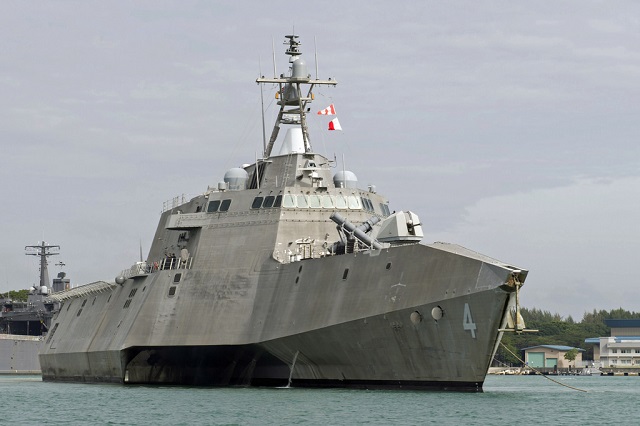 USS Coronado (LCS 4) departs Changi Naval Base in Singapore, Jan. 31. (U.S. Navy/MC2 Amy M. Ressler)
The crew will conduct training in multiple warfare areas while underway in preparation for operations, theater security cooperation exercises and maritime security engagements scheduled during the ship's rotational deployment to the Indo-Asia-Pacific in 2017.

"We will use this underway period to capitalize on the opportunity to flex the ship and all of its systems across multiple mission areas, ensuring technical and tactical proficiency," said Cmdr. Scott Larson, commanding officer, USS Coronado. "These Sailors have risen to meet and overcome every challenge put in front of them. I couldn't be more proud of the positive energy and focus that this team continues to bring to their jobs on a daily basis."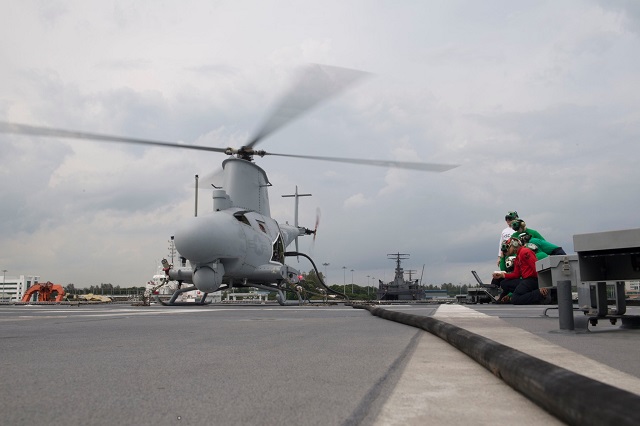 Sailors assigned to HSC-23 perform functional tests on an MQ-8B Fire Scout unmanned helicopter aboard USS Coronado. US Navy photo.
The ship's maintenance availability began in December and included a D-phase maintenance procedure and a Material Condition Inspection (MCI) on the embarked MH-60S helicopter.

Lt. Cmdr. Thanh Nguyen, officer in charge, Helicopter Sea Combat Squadron (HSC) 23 detachment 5, talked about the importance of the procedure, which looks at all aspects of the helicopter including the engines and rotors.

"The maintenance is important to ensure we have an up and ready aircraft for any tasking that may come," said Nguyen. "The D-phase is very time consuming and requires a lot of tools and parts. By doing it in port, it allowed us to maximize the space in the hanger and gave us a more stable platform to perform the work."

Currently on its maiden deployment, Coronado is a fast and agile warship tailor-made to patrol the region's littorals and work hull-to-hull with partner navies, providing 7th Fleet with the flexible capabilities it needs now and in the future.