a
Naval Industry News - Russia, India
Russia & India Working to Increase BrahMos Supersonic Anti-Ship Missile Range
Russia's Machine-Building Scientific and Production Association is planning to boost the range of the BrahMos cruise missile jointly produced with India, Company CEO and General Designer Alexander Leonov said.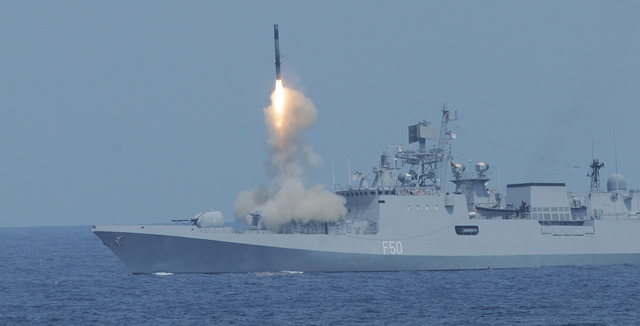 A Brahmos missile is vertically launched from INS Tarkash (F50)
"There will be a noticeable increase in the missile's range, not by several times but noticeable," he said.

The company has already started the research stage to increase the cruise missile's range.
The second stage, during which the research work will be embodied in a real project, will take from two to three years, Leonov said.

The BrahMos supersonic cruise missile is produced by Russian-Indian Brahmos Aerospace Company set up by Russia's Machine-Building Scientific and Production Association and India's Defense Research and Development Organization in 1998.

The missile's name comes from the names of two rivers, i.e. the Brahmaputra and the Moskva. The missile has a range of 290 kilometers (180 miles) and carries a warhead weighing from 200 to 300 kilograms.



© Copyright 2017 TASS. All rights reserved. This material may not be published, broadcast, rewritten or redistributed.