a
Naval Forces News - Russia
First Steregushchiy-class Corvette for Russian Pacific Fleet Started Sea Trials
The Project 20380 (NATO reporting name: Steregushchy-class) Sovershenny corvette built by the Amur Shipyard for Russia's Pacific Fleet has launched its running trials, the fleet's spokesman, Navy Captain 2nd Rank Vladimir Matveyev, has told TASS.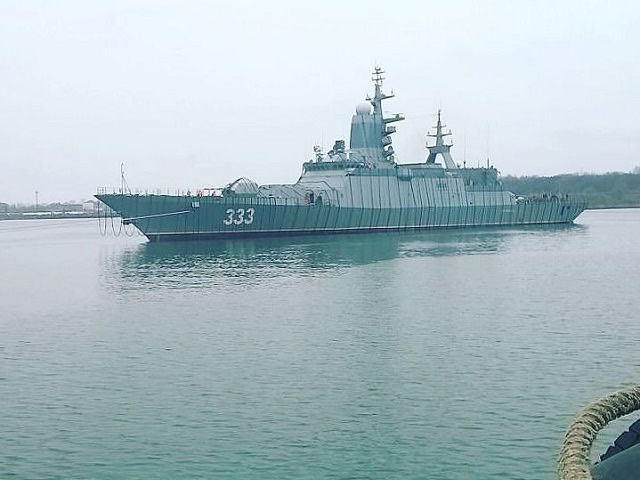 The Project 20380 corvette Sovershenny is the fourth of the class and first one intended for the Pacific Fleet. Seen here in October 2016 during degaussing. Picture by VKontakte.
"In the course of the running trials at the Pacific Fleet's training areas, the crew and industry representatives shall test the corvette's systems and mechanisms at sea, in particular the propulsion plant, rudder, auxiliary mechanisms, communications gear, target acquisition and navigation systems and anchor handling equipment. There will be speed, maneuverability and vibration tests as well," Matveyev said.

In addition to the crew, the ship carries personnel of the shipyard and subcontractors. Matveyev noted that the running trials were a compulsory phase crowning the process of building any ship. They are conducted to check the systems and mechanisms for compliance with the requirements specification and technical and operational manuals in the realistic environment.

TASS reported previously that the Amur Shipyard had laid the Sovershenny down in 2006 and launched her in 2015. The corvette is expected to be commissioned for service with the Pacific Fleet in earlier 2017.

The Project 20380 corvette is a littoral ship capable of fighting surface ships and submarines and providing fire support during amphibious assault operations. Her full displacement stands at about 2,200 tons, speed 27 knots and endurance 4,000 nm. The mainstay of her weapons suite is the Uran (SS-N-25 Switchblade) antiship and Redut air defense missile systems. The corvette also carries artillery and antisubmarine weapons and a helicopter.



© Copyright 2017 TASS. All rights reserved. This material may not be published, broadcast, rewritten or redistributed.