a
Naval Forces News - USA, UK, Australia, France
Unified Trident Exercise Wraps Up with US Navy, Royal Navy, Royal Australian Navy, French Navy
The U.S. Navy and Coast Guard along with the Royal navy, Royal Australian navy and French Marine Nationale successfully concluded exercise Unified Trident, Feb. 2. More than 15 ships, plus numerous aircraft from the four navies completed many different evolutions achiveing an increased level of integration through adaptive and proactive problem solving.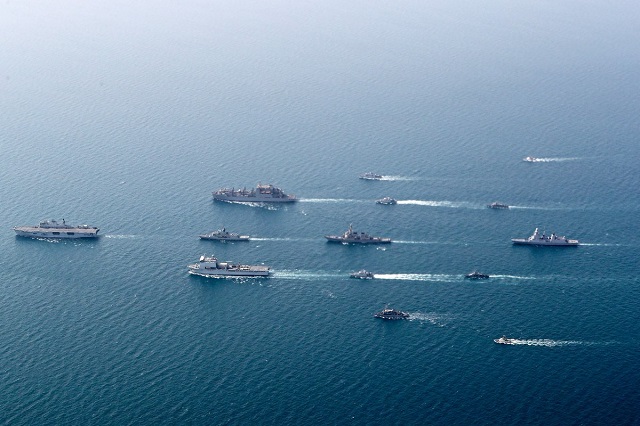 More than 15 ships, plus numerous aircraft from the four navies participated in Unified Trident Exercise. Picture: US Navy.
U.S. Navy liaison officers from U.S. Naval Forces Central Command (NAVCENT) embarked the Royal navy's amphibious assault ship HMS Ocean (L12) -- flagship for Commander, Task Force 50 -- to further support the exercise demonstrating allied commitment to interoperability.

Unified Trident also marked the first time the Royal navy led an exercise involving all of U.S. Naval Forces Central Command's task forces.

"This exercise will further develop a way a multinational [naval force] could be generated against threats against the free flow of commerce and freedom of navigation," said Royal navy Commodore Andrew Burns, CTF 50. "It's really important we continue to [take advantage of] the opportunity to demonstrate how effective we are when we do work together."

Evolutions included a gunnery exercise designed to maintain Sailors' readiness with onboard weapon systems, a combined anti-submarine exercise involving simulating and overcoming realistic submarine threats, and an air-defense exercise aiming to increase proficiency in air and missile defense of the Arabian Gulf.

The first day of Unified Trident focused on layered defenses, also known as defense-in-depth, in maritime operations. For example, Royal Australian navy Anzac-class frigate HMAS Arunta (FFH 151) and French Marine Nationale anti-air frigate FS Forbin (D620) provided protection for the Royal navy's Hunt-class minehunter HMS Chiddingfold (M37) during a mine countermeasures exercise designed to seek, identify, and eliminate mine threats.

"Forbin has been deployed for three months and integrated for one month in CTF 50," said Capt. Christophe Cluzel, commander of Forbin. "Being fully integrated into CTF 50 was my main goal as we arrived in the area of operations. Now we are able and fully interoperable with the task force."

The centerpiece of the exercise involved all units steaming in formation, showcasing the combined commitment to the free flow of commerce, freedom of navigation, and regional security and stability.

"They are doing an outstanding job for the security of the French and allied people in fighting terrorism far from their home, far from their family," said Cluzel. "Everybody at home is watching us and expects the best from us."