a
Naval Forces News - Russia

Russian Navy Aircraft Carrier Adm. Kuznetsov Syrian experience to be used in new carrier design
The Syrian experience of the Admiral Kuznetsov aircraft carrier and other warships of the Russian Navy will be used in the design and construction of new warships, Navy Commander-in-Chief Vladimir Korolev told navymen and pilots who returned from Syria.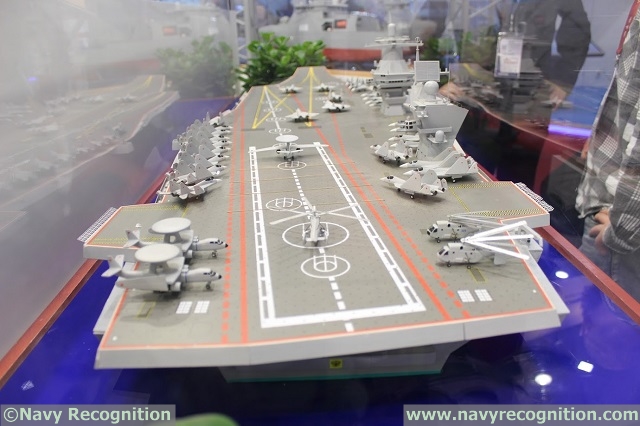 Project 23000E Storm aircraft carrier showcased by Krylov during Army 2016 exhibition.

"Work is ongoing. In design of new warships we shall take into account everything related to the operation with engagement of combat aircraft and specifically of seaborne aviation," he said.

"All types of protection and defense of the aircraft carrying group at sea" will also be taken into account, Korolev said.

The group including the Admiral Kuznetsov, the Petr Veliky heavy nuclear missile cruiser, big antisubmarine ships Severomorsk and Vice Admiral Kulakov and supply vessels sailed out on October 15, 2016. On November 1 the Russian defense minister reported their arrival in the Mediterranean Sea. In two months of the operation the Admiral Kuznetsov's aircraft made 420 combat sorties, including 117 at night and destroyed over a thousand facilities of terrorists. The large-scale navigation to the Mediterranean Sea with combat seaborne aircraft engagement was accomplished for the first time in the history of the Russian Navy.



© Copyright 2017 TASS. All rights reserved. This material may not be published, broadcast, rewritten or redistributed.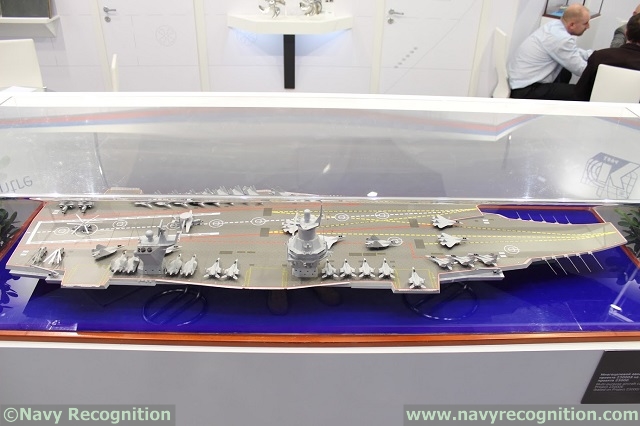 Project 23000E Storm aircraft carrier showcased by Krylov during Army 2016 exhibition.

Comments
Krylov State Research Center completed last year a conceptual design of the Project 23000 Shtorm aircraft carrier intended to displace 95,000 tons and carry an air wing of 65 aircraft. Her power plant may be nuclear. In addition, provision has been made for two electromagnetic catapults.

According to Krylov "the Project 23000 multirole aircraft carrier is designed for operations far in the ocean, attacks on land-based and naval targets, provision of combat stability for friendly naval forces and air defense of Marines and supporting ships during amphibious assaults. The future ship is supposed to displace about 95,000 tons, measure 330 m long and have a speed of 30 knots. The carrier is to carry sophisticated radio equipment, radars and self-defense systems. Her complement will be several thousand servicemen, including the personnel of her air wing".