a
Naval Defense News - Norway

Norway & Germany initiate extended industrial cooperation related to the Norwegian submarine acquisition
Norwegian and German authorities initiates a comprehensive industrial cooperation on submarine and missile deliveries that could entail considerable contracts for KONGSBERG. KONGSBERG, together with a network of approximately 100 small and large suppliers across Norway, will have large and key deliveries to the new submarines, where amongst other the submarines' combat management system will be delivered by Norwegian industry.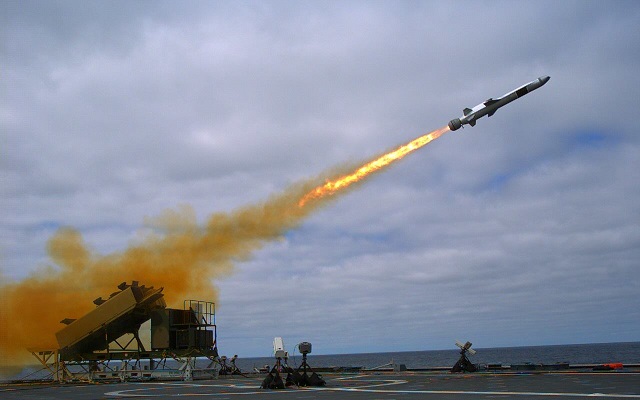 (Sept. 23, 2014) - The crew of the littoral combat ship USS Coronado (LCS 4) successfully performed a live-fire demonstration of a Kongsberg Naval Strike Missile (NSM) during missile testing operations off the coast of Southern California, Sept. 23. During the test, the Norwegian-made Kongsberg NSM was launched from the deck of Coronado and scored a direct hit on its intended target, a Mobile Ship Target (MST). (U.S. Navy photo by Mass Communication Specialist 2nd Class Zachary D. Bell/Released)

In a press conference this afternoon, Norwegian authorities announced that the strategic partnership for submarine acquisition expands to include KONGSBERG's «Naval Strike Missile» (NSM). The cooperation entails further development of the missile, and that the German navy intends to acquire a significant number of NSM for its vessels. This also enables a close cooperation on joint maintenance and logistics between the German and the Norwegian navy.

NSM is the world's only fifth generation long-range precision missile based on a passive sensor technology and low radar signature. NSM is today in operation in the Norwegian and the Polish Navy, and was recently chosen by Malaysia.