a
Naval Forces News - Russia
Russia's Project 11540 frigate Neustrashimy to re-enter service in November after repairs
The Project 11540 frigate Neustrashimy will re-enter service with the Russian Baltic Fleet in November after it is repaired and upgraded by the Yantar Shipyard in west Russia, shipyard spokesman Sergei Mikhailov told TASS.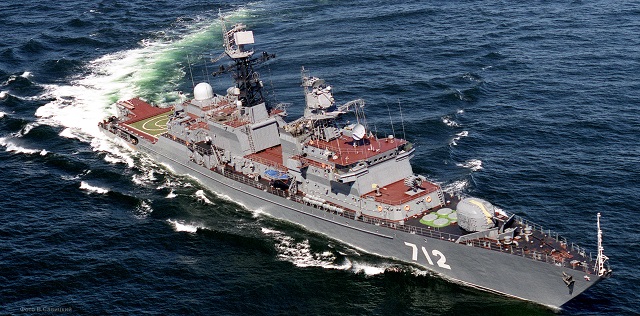 Neustrashimy is the lead Frigate of Project 11540

"The frigate Neustrashimy is expected to be handed over to the fleet in November," Mikhailov said.

According to the spokesman, the ship has recently arrived at the shipyard's dock where "its shaft line and hull will be repaired". It will pass about four months there.

Earlier, the frigate Neustrashimy was planned to re-enter service in late 2016. According to Shipyard Chief for Repairs Denis Zabaluyev, "a wide range of defects have been revealed during the fault examination, and we have signed an agreement with the customer, under which the ship will be handed over in November 2017."

As of today, the ship's hull and hull structures have been repaired, he added. The Project 11540 Yastreb-class frigate Neustrashimy was built by the Yantar Shipyard in 1993. The frigate is designed to search for, detect, track and destroy submarines, provide anti-ship and antisubmarine defense for warships, sink submarines and surface ships at sea and bases and support land forces and marines.

© Copyright 2017 TASS. All rights reserved. This material may not be published, broadcast, rewritten or redistributed.