a
Naval Forces News - Russia
Video: Russian Navy Tests Tor-M2KM air defense missile system from Admiral Grigorovich Frigate
State-owned Russian-language news channel "Russia 24" published an interesting video showing at-sea test of a Russian Army Tor-M2KM air defense missile system from the Project 11356 frigate Admiral Grigorovich. The 9K331MKM module can be seen fitted on the helicopter pad of the frigate.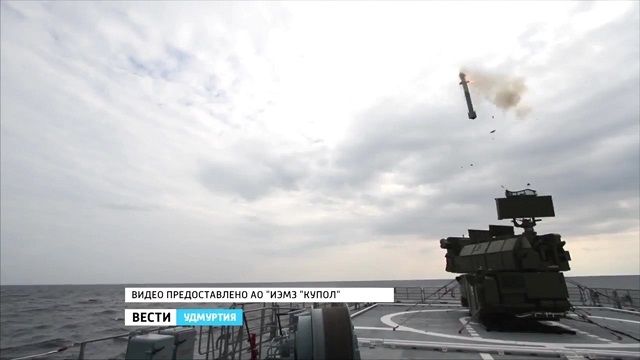 Launch of a 9M331M surface to air missile from the self-contained combat module 9K331MKM short-range missile system Tor-M2KM, placed on the helicopter deck of the head frigate Admiral Grigorovich of Project 11356. Screenshot from "Russia 24" video (via bmpd.livejournal.com).

The tests were conducted in the Black Sea in October 2016.

According to the information of the JSC "Izhevsk Electromechanical Plant" Kupol" (member of Almaz Antey), the main task of the tests was to assess in practice the possibilities of using the Tor-M2KM missile defense system in the interests of the Navy. The tests gave a large amount of information on the impact of sea conditions on the combat operations of the Tor-M2 missile system and confirmed the wide possibilities of using the Tor-M2KM self-contained combat module.
Meanwhile, JSC IEMZ Kupol is still working on a naval variant of the Tor-M2 air defence system as we reported in December.

It is not the first time that a land-based air defence system is tested from a surface vessel deck. In May last year, the Israeli navy and Rafael tested a land-based Iron Dome launcher at sea from the deck of a Sa'ar 5 corvette. Details about the test at this link.

The frigate Admiral Grigorovich is the first out of six ships designed for Russia's Black Sea Fleet. It was laid down in late 2010 and put afloat in the spring of 2014. The frigates in the class displace 4,000 tons, sail at 30 knots, have an endurance of 30 days and carry the Kalibr missile system with 3M-14, 3M-54 and other precision-guided missiles (the bow-mounted 3S-14 vertical launch system houses eight missiles), Uragan-1 (SA-N-7 Gadfly) multiple-target engagement-capable air defense missile system (3x12 VLS's, 24 missiles) and Kortik (SA-N-11 Grison) air defense missile/gun system (two combat modules, 2x4 SAM launchers, 32 missiles and 2x6 30-mm antiaircraft guns.