a
Naval Forces News - Russia

Russia's 1st Project 22350 Frigate Admiral Gorshkov to join Northern Fleet in November 2017
St. Andrew's flag will be hoisted on board the Project 22350 lead frigate Admiral Gorshkov in July, while the ship will join the Northern Fleet in November, according to Rear Admiral Vladimir Tryapichnikov, head of the Navy's Shipbuilding Department.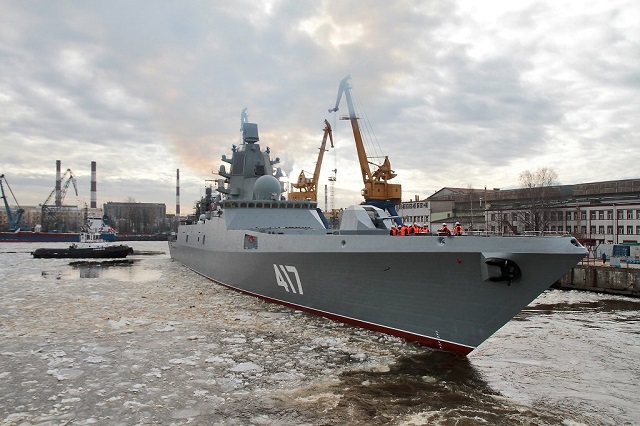 The Admiral Gorshkov frigate is the lead vessel of Project 22350.
"In July, the Navy flag will be hoisted on board the frigate Admiral Gorshkov and it will be commissioned with the Russian Navy. In November 2017, after completing a series of course tasks, the ship will join the Northern Fleet forces," said Tryapichnikov.

He also said that the Russian Navy expects to get four Project 22350 frigates from Severnaya Verf until 2025, whereupon it is planned to modernize the frigates of this project.

Earlier, Deputy Prime Minister Dmitry Rogozin, who supervises Russia's defense industry, said that the tests of Admiral Gorshkov were on schedule and should be completed in July this year. As the official noted, the complexity of Gorshkov's tests was that it was necessary to simultaneously check the performance of several dozen newest systems, in particular, electronics, artillery, various ship's and missile defense systems.

Admiral Gorshkov is the lead ship of Project 22350. It was laid down in early 2006, launched in the autumn of 2010. The frigate began its first trials in November 2014, while the final stage of its official tests commenced on March 20, 2017.

Project 22350 frigates are designated to fright surface warships and submarines in oceans and seas and to repel air attacks both independently and within formations. It is a flush-deck three-island warship with one mast and one steel funnel. Low signature technologies were used in construction to make the frigate practically invisible for adversary radars. The displacement of project 22350 frigates is close to 4550 tons and the length is 135 meters. The capacity of the diesel gas-turbine power plant is 65000 HP. The armaments include a new 130-mm A-192 artillery gun, antiship, antisubmarine and antiaircraft missiles, including Caliber and Poliment-Redut. The frigate can carry a Ka-27 helicopter or its modifications.

© Copyright 2017 TASS. All rights reserved. This material may not be published, broadcast, rewritten or redistributed.