a
Naval Forces News - Russia
Russia Starts Development of Project 955B Borei-B SSBN Submarine
Russia has started building Borei-B class strategic nuclear-powered submarines, chief of the Russian Armed Forces' General Staff Valery Gerasimov said. "Work to create the advanced Borei-B nuclear-powered missile underwater cruiser has started," he said at a Defense Ministry Board meeting.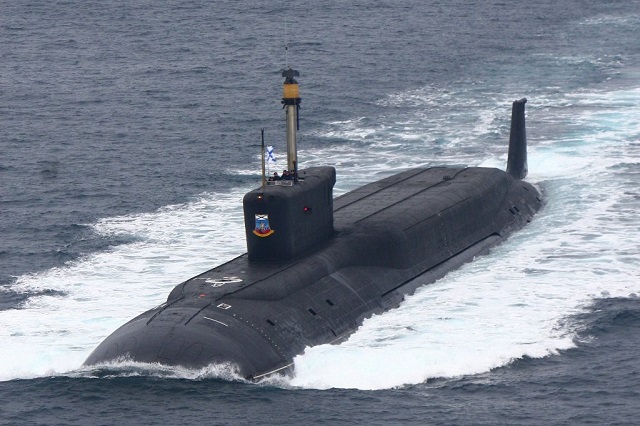 The K-535 Yuriy Dolgorukiy, first Project 955 Borey-class SSBN
He reiterated that the country's strategic nuclear forces already started receiving Borei-class boomers. "It made it possible to increase the share of modern strategic submarines to 82%," the general specified.

In five years, 102 ballistic missiles were bought for these subs, Gerasimov specified. "Battle capabilities of the group of strategic nuclear-powered submarines increased by 25%, and the stealth and sustainability of the nuclear strategic forces also increased," the chief of the General Staff noted.

Gerasimov also reiterated that five Borei-A class nuclear subs are being built now. The last ship in this series - the Knyaz Pozharsky (Prince Pozharsky) - was laid down in December last year.

© Copyright 2017 TASS. All rights reserved. This material may not be published, broadcast, rewritten or redistributed.

Navy Recognition comment on Project 955A
On 15 December 2009, a Defense Ministry official announced that the laying down of the fourth Project 955 Borei-class submarine had been postponed from December to the first quarter of 2010. The reason for the delay was said to be "organizational and technical reasons". The fourth ship of the 955 class will actually be the first improved "955A" variant. It is reported by unnamed sources that this modification will include major structural changes and probably other changes. Two Project 955A submarines, the Knyaz Oleg and Generalissimo Suvorov, were laid down in 2014. The Project 955A submarine Emperor Alexander III was laid down in 2015.

The first Project 955A submarine Knyaz Vladimir is now set to join the Russian Navy in 2018 or one year later than planned. It was originally expected to be launch in August-September 2017.