a
Naval Industry News - South Korea, Thailand
DSME Right on Track with Royal Thai Navy Frigate
South Korean shipyard Daewoo Shipbuilding & Marine Engineering (DSME) is showcasing a scale model of the DW3000 Frigate ordered by the Royal Thai Navy at the Defense & Security 2017 defense exhibition currently held in Bangkok. Thailand ordered the 3,650 tons frigate in August 2013 under a contract worth US$410 million.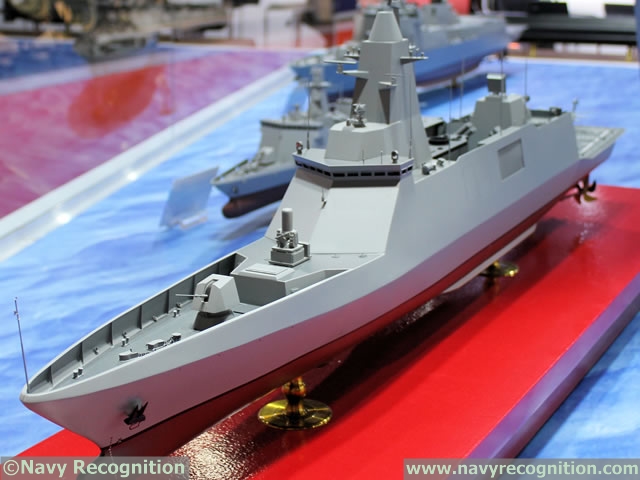 Scale model of the DW3000 Frigate for the Royal Thai Navy on DSME stand at Defense & Security 2017 defense exhbition in Bangkok.
The vessel, a "DW3000 F" Frigate, was fully designed and developed by DSME. It is 122.5 meters in length, 14.4 meters in width with a top speed of 30 knots. It can accommodate a crew of 135 sailors.

Talking to Navy Recognition at the show, a DSME representative explained that the vessel is fitted with a 76mm main gun by Oto Melara, a Phalanx CIWS, 8x Harpoon ant-ship missiles , 8x Mk41 VLS for (up to 32x) ESSM surface-to-air missiles, two MSI Defense 30mm remote weapon stations and two triple torpedo launchers by SEA.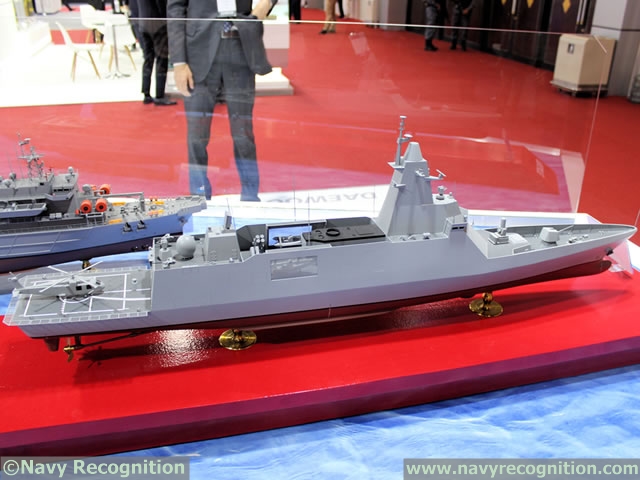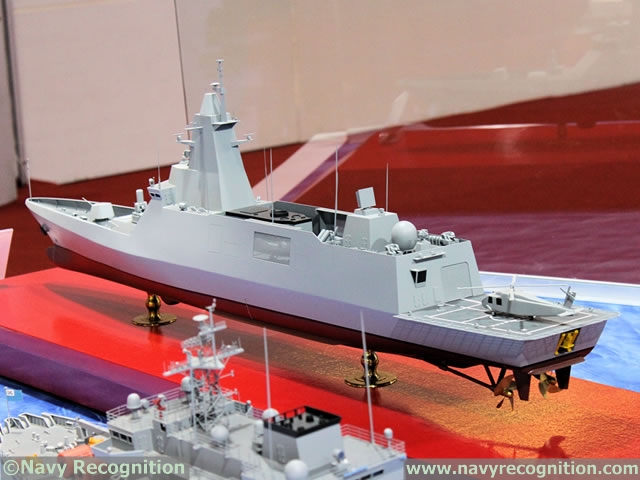 Scale model of the DW3000 Frigate for the Royal Thai Navy on DSME stand at Defense & Security 2017 defense exhbition in Bangkok.
The combat system fitted aboard the frigate is the 9LV Mk4 by Saab. The Swedish defense company has an important presence in Thailand and has been a long time supplier of the Thai armed forces in the three fields (air, sea and land).

As far as sensors are concerned, the future Royal Thai Navy frigate is fitted witha modern sensor suite:
Saab Sea Giraffe AMB surveillance radar, Sperry Marine navigation radar, 2x Saab CEROS 200 fire control radar, and Atlas Electronik ACTAS towed sonar and ASO hull mounted sonar.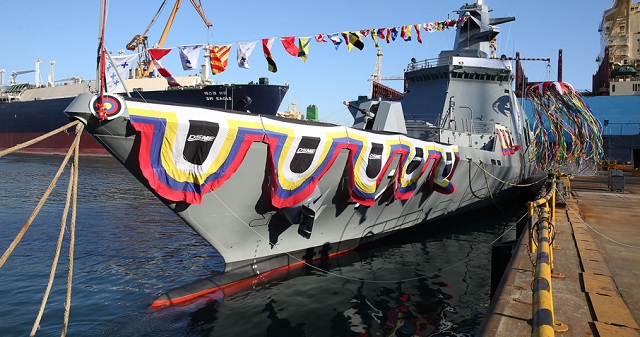 Delivery ceremony for the Royal Thai Navy first DW3000 Frigate at DSME shipyard. Picture: DSME
DSME launched the vessel, Tachine, in January this year at its Geoje Okpo Shipyard in Gyeongsangnam-do in presence of Admiral Na Areenich, Chief of Staff of the Royal Thai Navy

Admiral Na Arreenich, Thailand's Navy chief of staff, who attended the launching ceremony, said, "We are expecting that the newest frigate, which accurately reflects the requirements of the Thai Navy, will be used in conjunction with the existing fleet to help smooth our operations".

This frigate order is one of the largest defense contracts in Thailand's history. DSME has partnered with major domestic defense companies' equipments to promote joint growth with SMEs. Thailand is a major military power in Southeast Asia. Recently, in preparation for the dispute over territorial rights due to the increase of naval power in neighboring countries and the modernization project of ageing vessels in order to protect marine resources, DSME has been steadily strengthening the naval power of Thailand.

A DSME representative at the show told Navy Recognition that the future HTMS Tachine is currently undergoing sea trials and is set to be delivered in August 2018. The Royal Thai Navy may order a second Frigate of the same class. This second vessel could be built localy in Thailand.