a
Naval Forces News - Russia
Video: Russian Project 11356 Frigate Admiral Makarov Test Fires Shtil-1 Missiles
The Admiral Makarov frigate of project 11356 fired antiaircraft missiles during the final stage of government acceptance tests at sea ranges of the Baltic fleet, spokesman Roman Martov said.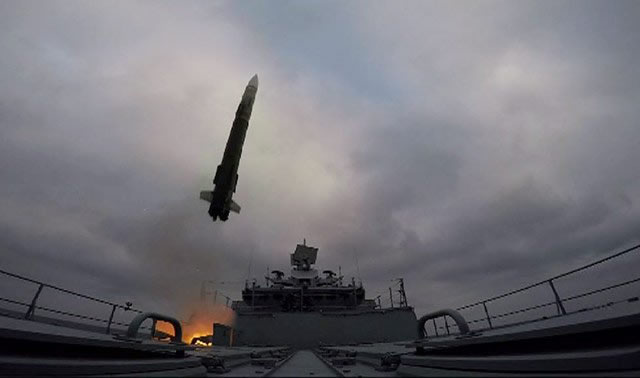 Russian Navy Admiral Makarov frigate launching a Shtil surface to air missile.
"The crew fired missiles at seaborne air targets in the framework of government acceptance tests. The Shtil multichannel antiaircraft seaborne complex was engaged against targets imitating adversary cruise missiles," he said.

The targets were launched by the Geyzer and Liven missile warships. They in turn fired the missile targets imitating antiship cruise missiles of the conditional adversary.

Close to 10 warships and supply vessels of the Baltic fleet ensured safety of the exercise.

© Copyright 2017 TASS. All rights reserved. This material may not be published, broadcast, rewritten or redistributed.
Navy Recognition comment:
The Shtil missile system development has been problematic. Earlier this year, the Russian navy announced that Almaz Antey (missile manufacturer) and Yantar shipyard resolved the issue. The frigate was set to be delivered to the navy by late 2016 but issues with the Shtil system has pushed the delivery back.

The frigate Admiral Makarov was laid down by the Yantar Shipyard on February 29, 2012 and floated out on September 2, 2015. The first two Project 11356 frigates Admiral Grigorovich and Admiral Essen were delivered to the customer on March 11, 2016 and June 7, 2016, respectively.