a
Naval Industry News - Russia
Russia's Second Project 22350 Gorshkov-class Frigate to Start Sea Trials in 2018
The Northern Shipyard of the United Shipbuilding Corporation tested the startup of the sustainer motors of the main power plant of the first serial frigate with guided missiles the Admiral Kasatonov of Project 22350 frigate , the press service of the shipyard said.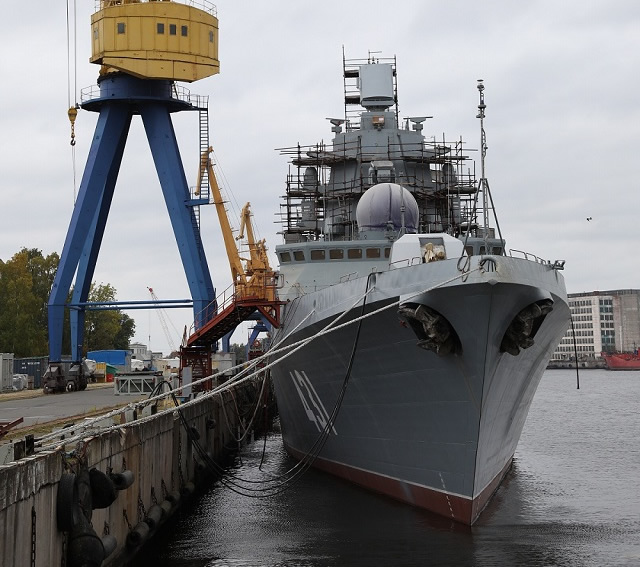 The project 22350 frigate Admiral Kasatonov during outfitting at PJSC Shipyard Severnaya Verf, St. Petersburg, in November 2017.
Single and parallel operation of four diesel generators was also tested. "The frigate had the fire, drying, potable water and air conditioning systems tested. The medical unit and the galley became operational, as well as cabins, the officers' and crew mess and quarters, sanitary and everyday facilities. The contractors delayed supplies of furniture for several months which delayed the preparation of cabins and quarters. At present the final furniture batch is being delivered and the frigate readies to furbish cabins. Primary painting of the premises is proceeding at a rapid pace. A total of 500 premises have to be painted. The final painting is to be accomplished before the handover of the warship to the customer," it said.

In late November the Northern Shipyard will present the Admiral Kasatonov to the warship construction and repair team. After acceptance by the team the crew of the warship will begin two-three month training. It is likely to complete in February 2018 after which the crew will inhabit the warship. Running trials are scheduled for early summer.



© Copyright 2017 TASS. All rights reserved. This material may not be published, broadcast, rewritten or redistributed.
First ship of the class
Project 22350 Admiral Gorshkov frigate during sea trials
Comment
The Project 22350 frigate Admiral Gorshkov was laid down in early 2006 and launched in the autumn of 2010. The ship started undergoing trials in November 2014. The final stage of its state tests began on March 20, 2017.

The Project 22350 frigate has a displacement of 4,500 tons and a speed of up to 29 knots. It is armed with Oniks (NATO reporting name: SS-N-26 Strobile) or Kalibr (SS-N-27 Sizzler) missiles and the Poliment-Redut surface-to-air missile system.

The Russian Navy is expected to receive six frigates of the type before 2025. As Russian Defense Minister Sergei Shoigu said, frigates of the type are expected to become main combat ships in the imminent future.