a
Naval Industry News - Russia
First Project 22800 Karakurt-class Corvette Uragan in Outfitting Stage at Pella Shipyard
Recent photos have surfaced showing Russia's first Project 22800 corvette Uragan pier-side at Pella Shipyards being outfitted. Russia's first serial-produced Project 22800 corvette (and second in the series) Taifun will be launched in November 2017, the Defense Ministry's press office said.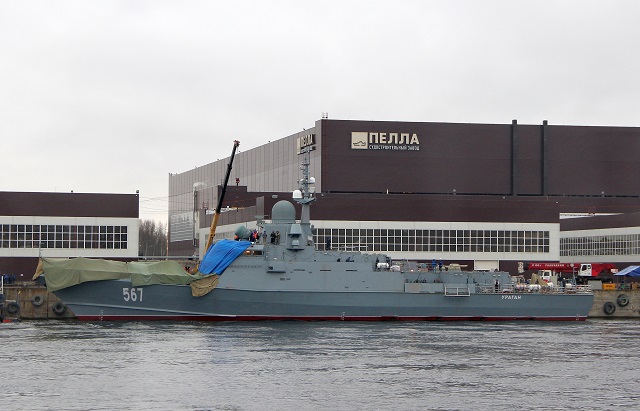 The first Project 22800 Karakut-class Corvette "Uragan" during outfitting at Pella Shipyard. Image via Curious / forums.airbase.ru

"The Project 22800 lead ship Uragan is staying at the shipyard's berth and is undergoing outfitting. The Project 22800 Karakurt-class ship was developed by the Almaz Central Marine Design Bureau [in St. Petersburg in northwest Russia] for the Navy. Military and scientific assistance was provided by the Navy's Military Scientific Training Center," the press office said.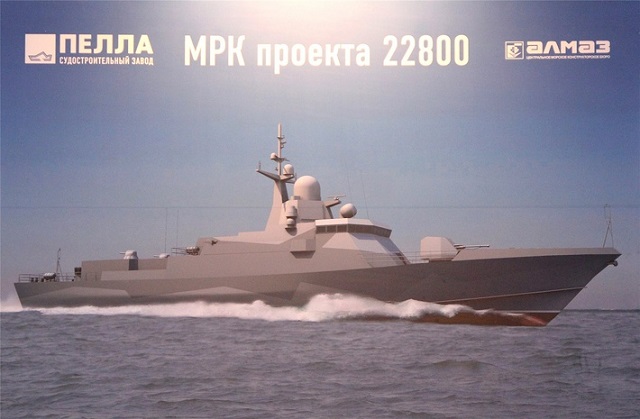 Artist impression of Project 22800 Corvette
The Project 22800 Karakurt-class guided missile corvette was developed by the Almaz Design Bureau. She measures 60 m long and 10 m abeam, with a draught of 4 m. Her main propulsion unit is diesel-electric and Russian-made. The ship has a maximum speed of 30 knots, a cruising range of 2,500 nm and an endurance of 15 days. Her armament will comprise a 100-mm or 76-mm versatile automatic gun and the Pantsir-M or Palma air defense missile/gun system. The corvette's superstructure will house an UKSK eight-cell VLS to accommodate the Kalibr-NK system's missiles.


Two Project 22800 guided missile corvettes, the Uragan and Typhoon, had been laid down by the Pella Shipyard in St. Petersburg. The third hull has been laid down by the Federal State Unitary Enterprise «Shipyard «Morye» in Feodosiya, Crimea in May 2016 and the fourth unit by Pella Shipyard in December. Zelenodolsk shipyard received a state contract on 5 August 2016 to supply five corvettes of Project 22800, the shipyard already laid the keel for two of them.

The lead ship was originally slated for delivery in 2017.