a
Naval Forces News - Egypt, South Korea
Egypt Received a Former ROK Navy Pohang-class Corvette from South Korea
A former Republic of Korea Navy (ROK Navy) Flight III Pohang-class corvette was transferred to Egypt last month. ROKS Jinju was decommissioned in December 2016, overhauled and then donated to the Egyptian Navy. The vessel reached Alexandria on Thursday, October 26, 2017.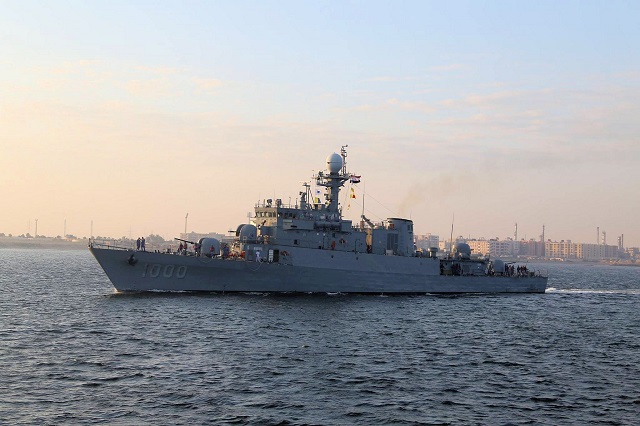 Former ROK Navy corvette ROKS JinJu arriving in Egypt on October 26, 2017. Egypt MoD picture.

ROKS Jinju was built by Hyundai Heavy Industries (HHI) and commissioned with the ROK Navy in June 1988. It has been renamed ENS Shabab Misr (meaning Youth of Egypt).

The Egyptian Ministry of Defense issued the following statement:
In continuation of the efforts of the armed forces to support the combat and technical capabilities of the navy, the frigate "Youth of Egypt" arrived at the Alexandria Naval Base , from South Korea, following the completion of the action taken by the Korean State, where it was given to Egypt in support of the distinguished military relations between the Egyptian and Korean armed forces, and the political leadership efforts of both countries and their strong support for the strengthening of joint cooperation in many areas.

The "Youth of Egypt" is characterized by high combat capabilities and long-distance sailing capacity (4500 Nautical Miles), speed (32 knots) total tonnage (1240 tons), and its combat capabilities characterized by various calibre guns, as well as torpedoes and missiles, with the most modern navigational and sensor systems.

The specialized and professional crew working on the frigate had been prepared and trained in a timely manner during which the naval forces had made effort and race to train and work on all technologies, to be able to carry out all the tasks assigned to them by the general leadership. For the armed forces, the frigate travelled a distance fifteen thousand kilometres during the journey back to the homeland with the implementation of joint exercises with both the South Korean Navy and the Indian Navy.
The vessel will be renamed ENS Shabab Misr
. Egypt MoD picture.

The Pohang-class corvette is a class of general purpose corvettes. They have served in a coastal defense role during the late Cold War and post Cold War period. A total of 24 Pohang-class vessels were built by South Korean shipyards Hyundai Heavy Industries, Hanjin Heavy Industries and Daewoo Shipbuilding & Marine Engineering. They are also known under their commercial name: HDC 1000 / Jupiter II.

Pohang-class corvettes measure 88.3 meters in length and 10 meters in width with a displacement of 1,200 tons (full load). Crew completement is 95 sailors. They are fitted with:
2 x OTO Melara 76 mm main guns
2 x Nobong 40mm/70 twin secondary guns
2 x Mark 32 triple torpedo tubes (with 6× Blue Shark torpedoes)
12 x Mark 9 depth charges

A vessel of this class, ROKS Cheonan, was cut in half and sunk on 26 March 2010, leading to the lost of 46 sailors (out of a crew of 104). In May 2010, a South Korean-led investigation group announced that all evidence pointed to a North Korean torpedo being responsible for the sinking of Cheyohnan.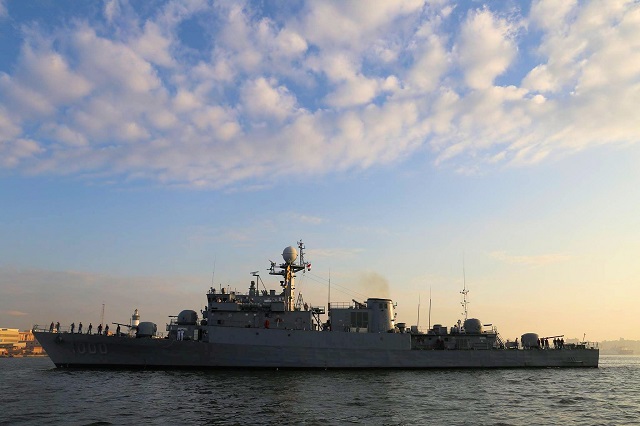 The vessel is fitted with medium caliber guns and torpedo tubes.