a
Naval Forces News - USA
U.S. Air Force, U.S.Navy conduct joint training in Western Pacific
U.S. Air Force B-1B bombers conducted interoperability training with three U.S. Navy carriers in the Western Pacific, Nov. 11.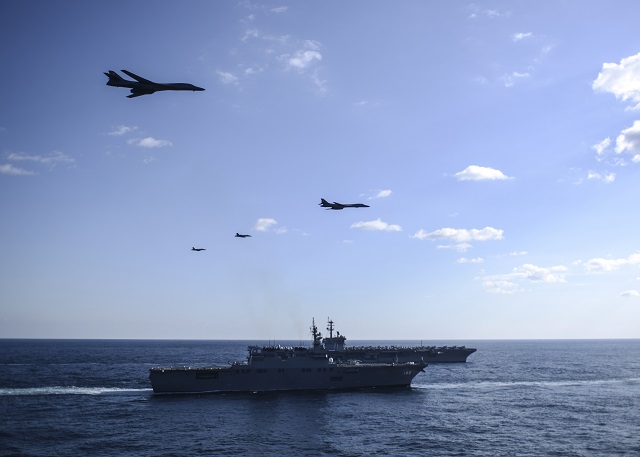 WESTERN PACIFIC (Nov. 12, 2017) Two B-1B Lancer bombers and two F/A-18 Super Hornet strike fighters fly in formation over the Japan Maritime Self-Defense Force Hyuga-class helicopter destroyer JS ISE (DDH-182), front, and the U.S. Navy Nimitz-class aircraft carrier USS Theodore Roosevelt (CVN 71). The USS Ronald Reagan (CVN 76), USS Theodore Roosevelt (CVN 71) and USS Nimitz (CVN 68) Strike Groups are underway and conducting operations in international waters as part of a three-carrier strike force exercise. The U.S. Pacific Fleet has patrolled the Indo-Pacific routinely for more than 70 years promoting regional security, stability and prosperity. (U.S. Navy photo by Mass Communication Specialist 2nd Class Holly L. Herline/Released)

"Our ability to integrate with our joint partners is critical to ensuring continued security and stability in the region," said Gen. Terrence J. O'Shaughnessy, Pacific Air Forces commander. "Together we present an extraordinary military force. We are grateful for this unique opportunity to enhance our interoperability across platforms and services while also demonstrating our commitment to our allies, partners and friends throughout the Indo-Asia-Pacific."
The B- 1B Lancers took off from Andersen Air Force Base, Guam, transited to the Western Pacific and performed a flyover of the USS Ronald Reagan (CVN 76), USS Nimitz (CVN 68), and USS Theodore Roosevelt (CVN 71) Carrier Strike Groups. Upon completion of the joint integration mission, the aircraft returned to their home stations.

The bombers were operating as part of the U.S. Pacific Command's continuous bomber presence missions, which have been routinely employed since March 2004 and are in accordance with international law.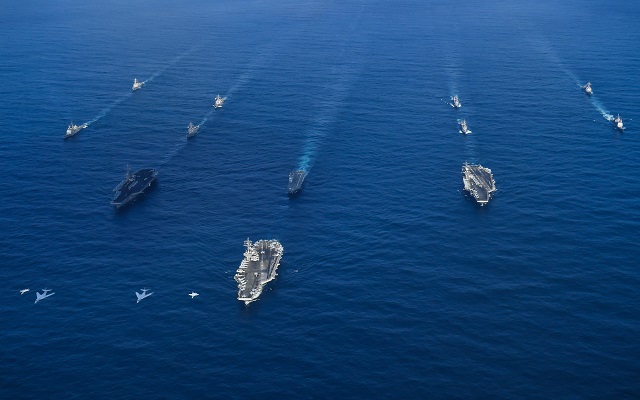 Two U.S. Air Force B-1B Lancers assigned to the 37th Expeditionary Bomb Squadron, deployed from Ellsworth Air Force Base, South Dakota, along with U.S. Navy F/A-18 Hornet fighter jets, perform a flyover of the USS Ronald Reagan (CVN 76), USS Nimitz (CVN 68), and USS Theodore Roosevelt (CVN 71) Carrier Strike Groups in the Western Pacific, Nov. 11, 2017. Joint missions provide units the opportunity to improve service-to-service interoperability and advanced combat capabilities, while demonstrating the U.S. commitment to peace and security in the Indo-Asia-Pacific region. (U.S. Navy photo by Mass Communications Specialist 3rd Class Anthony Rivera)