a
Naval Industry News - Spain, Australia

Navantia Lays the Keel of First AOR Vessel for Royal Australian Navy HMAS Supply

Spanish shipbuilding group laid the keel of the first of two Auxiliary Oiler Replenishment (AOR) logistics vessels for the Royal Australian Navy (RAN) during a ceremony at the shipyard in Ferrol. The two vessel were ordered in May 9, 2016 as part of project SEA1654. The keel laying ceremony took place in presence of the Chief of the RAN, Admiral Tim Barrett and the president of Navantia, Esteban García Vilasánchez.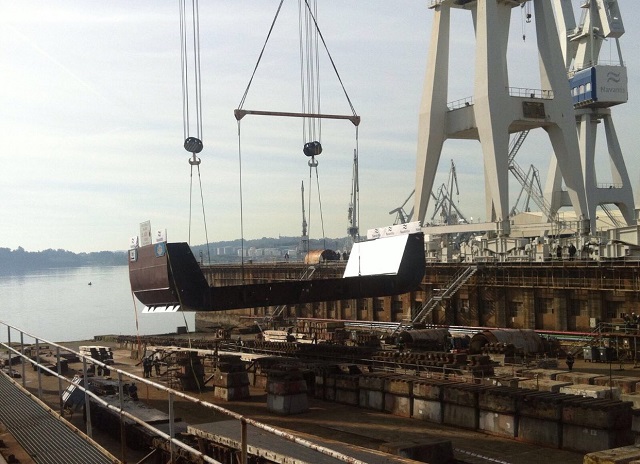 Keel laying ceremony for the future AOR HMAS Supply of the Royal Australian Navy
Australian defense minister Marise Payne announced on Friday that the future RAN replenishment ships will be named 'HMAS Supply' and 'HMAS Stalwart'. The ships will be known as AOR vessels and will replace the current HMA Ships Success and Sirius.

The first vessel is scheduled to be launched in the third quarter of next year, and delivered approximately one year later (2019). The second AOR vessel will have its kee laid, and be delivered 9 months after the first one.

The same Ferrol shipyard already built the Adelaide and Canberra LHDs for the RAN. Likewise, during the years 2011 to 2015, Navantia Bahía de Cádiz built 12 LCMs for the RAN.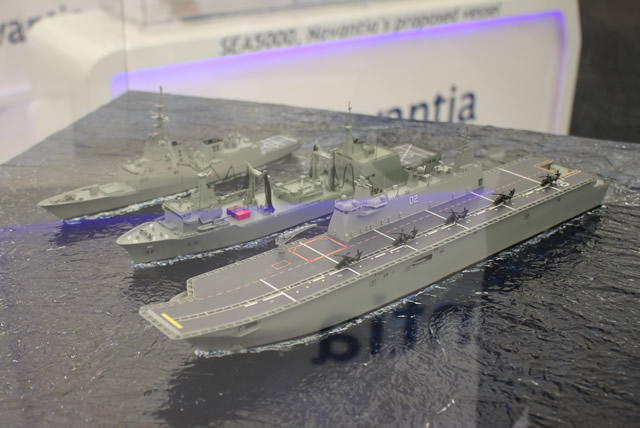 Scale models showing underway replenishment of Hobart class AWD (top) and Canberra class LHD (bottom) by a Cantabria type AOR (middle) all designed by Navantia. Picture: Navy Recognition
In addition, Australia acquired from Navantia the design for the construction of 3 Hobart-class AWD destroyers based on the F100, which are built in Adelaide, and later extended the contract for the management of the shipyard that builds them. The first of these destroyers was delivered to the RAN last month.

This outstanding positioning reached by Navantia in Australia has made it possible to be on the short list of candidates for Australia's largest order of surface vessels. Last August Navantia presented its offer and in the first quarter of next year the award of the SEA 5000 program will be decided, consisting of the design, construction in Australia and maintenance of 9 frigates.

· Main characteristics of the future RAN Supply-class AOR
- Total Length: 173.80 meters
- Maximum Width: 23 meters
- Draft: 14.80 meters
- Full Load displacement: 9,930 tons
- Maximum speed: 20 knots
- Crew: 130 people
- Accommodation capacity: 196 people
- Propulsion plant: 2 x 9,000 kW