a
Naval Aviation News - Italy, Brazil

Upgraded Brazilian Navy Super Lynx Mk21B Helicopter Makes Successful Maiden Flight
Leonardo is pleased to announce the successful maiden flight of the first of eight upgraded Brazilian Navy Super Lynx Mk21B helicopters at its Yeovil facility, in southwest England, on 28th September 2017. The upgraded Lynx helicopters will give Brazil's Naval Aviation a significant improvement in its capabilities, with much increased aircraft performance and mission effectiveness.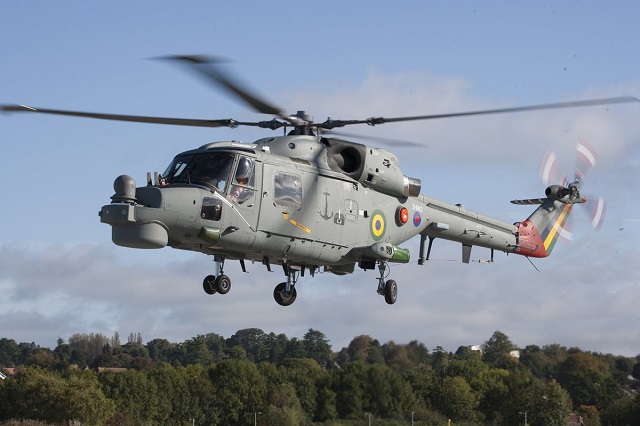 The First of eight Brazilian Navy Super Lynx Mk21A helicopters to undergo major upgrade. The first three upgraded aircraft will be delivered in 2018 and will provide increased aircraft performance and mission effectiveness.

The Super Lynx Mk21B is powered by two new generation CTS800-4N engines, already used on the Super Lynx 300 and the AW159 helicopters, which provide the helicopters with major performance improvements, especially in hot environments, increasing payload and mission effectiveness. A new glass cockpit will be complimented by an advanced avionic suite comprising a tactical processor, satellite based navigation system, civil navigation aids including a Traffic Collision Avoidance System (TCAS), Automatic Identification System (AIS), radar warning receiver/electronic surveillance measures integrated with countermeasures dispensers and a full Night Vision Goggle (NVG) compatible cockpit, together with a new electrically powered rescue hoist.

The maiden flight marks another milestone in the long standing partnership between Leonardo and the Brazilian Navy, which has been operating Lynx helicopters since 1978.