---
Malakhit Design Bureau in St. Petersburg completed the preliminary design of the Husky-class fifth-generation nuclear submarine, Sudostroenie.info portal quoted Malakhit CEO Vladimir Dorofeyev as saying during celebrations of the 70th anniversary of the bureau.
---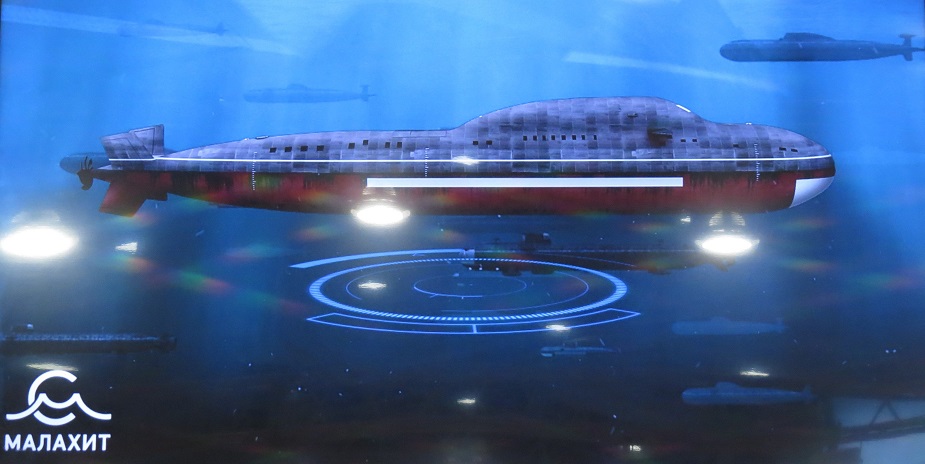 Artist impression of "Husky" project as shown by Malachite (JSC «Saint-Petersburg Marine Design Bureau «Malachite») during a defense exhibition in 2016.
---
"There is a tradition to mark a jubilee with a labor exploit, and we did it. In March we completed the preliminary design of the prospective nuclear submarine of the Husky class," he said.

Besides upgraded technical characteristics, the new project is economically feasible. "Our warships have to become more powerful and cheaper," Dorofeyev said.

He previously said the experience accumulated in projects 671, 971 and 885 will be used in the new-generation submarine. Today the designers have to deal with the military component and achieve required characteristics with less labor intensity and costs.

Husky-class fifth-generation submarine will be uniform to the maximum and inherit the qualities of multirole SSGN and strategic SSBN. The concept and detail design of the fifth-generation submarine have been developed since 2016. The navy will begin receiving fifth-generation subs in the 2030s.

Fifth-generation nuclear submarines are distinguished from predecessors by unified prospective robotized complexes.

The shipbuilding program up to 2050 advances new requirements to the design of nuclear submarines and focuses on their universal engagement, effective control and armaments. In particular, combat capabilities will increase due to unified modular platforms of various displacement and the integration into the armaments of prospective robotized complexes.
---

HUSKY: Russia's Next Generation Attack Submarine. Artwork by Hisutton.com

---
Russian Navy Commander-in-Chief Admiral Vladimir Korolev congratulated the Malakhit Maritime Design Bureau in St. Petersburg with the 70th anniversary. He noted the immense contribution of the bureau into the design and development of the Russian nuclear submarine fleet, the Russian Defense Ministry said.

Navy Deputy Commander-in-Chief for armaments Vice Admiral Viktor Bursuk handed over Korolev's message to Malakhit CEO Vladimir Dorofeyev.

Bureau #143 was created on March 31, 1948 by a resolution of the Soviet government and the Communist Party. It had to design high-speed submarines with non-traditional power plants. After a number of transformations and renaming the bureau was called Malakhit. In 70 years it produced over 50 projects by which over 300 submarines were built, including a hundred nuclear-powered ones.

In particular, Malakhit designed a series of submarines by the upgraded project 885M and the submarines are at various construction stages. Due to missiles, stealth characteristics and high speed the submarines can engage in strategic non-nuclear deterrence for the first time in the history of the Russian Navy.
---
© Copyright 2018 TASS. All rights reserved. This material may not be published, broadcast, rewritten or redistributed.
---