---
On April 13, 2018, Saudi company Zamil Offshore Services concluded an agreement worth 480 million dollars with the French shipbuilding company CMN for the construction of 39 HSI32 interceptors for a Saudi state agency, likely the Coast Guards. According to the agreement, 19 vessels are set to be built by CMN in Cherbourg, France, and the remaining 20 will be assembled at the facilities of Zamil Offshore Services in Saudi Arabia.
---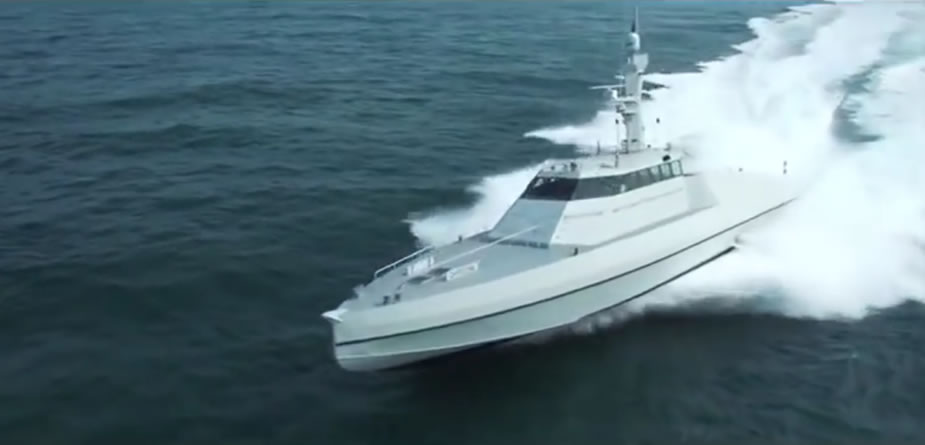 The first HSI32 Interceptor during the sea trials off Cherbourg (Normandy). Picture: CMN
---
Zamil Offshore Services was founded in 1977 as a 100% Saudi Company working in diversified business fields. It is renowned as the largest offshore & marine services provider in the Middle East. It is primarily engaged in marine support for the Saudi company ARAMCO (Saudi Arabian Oil Company) providing technical fleet, port operations, ship repair...

Three HSI32 interceptors and threeOCEAN EAGLE 43 trimaran patrol vessels (and several fishing vessels) were ordered by the Navy of Mozambique back in September 2013. Three more HSI32 Interceptors were subsequently ordered in January. The first 3 HSI32 were deliverered from December 2015 to April 2016. A preliminary agreement on the construction of 30 HSI32 interceptors for the Saudi Coast Guard was signed by CMN in early 2016.

Note that in early 2018, Saudi Arabia also renegotiated with CMN a contract worth about 250 million euros for three large Fast Attack Craft Missiles (FACM) of Combattante FS56 class for the Royal Saudi Navy. These vessels were originally intended for Lebanon.
---
The HSI32 Interceptor reaching 53 Knots during the sea trials off Cherbourg (Normandy).
---
CMN HSI32 Interceptor
The HSI32 is designed to meet the needs of modern Navies and Coast Guards. The HSI32 is a fast interceptor which combines significant intelligence and surveillance capacities with high speed (45 knots) and extended patrol period of 3 days.
CMN has sought to develop a versatile interceptor, efficient and easy to use for conducting anti-piracy, anti-terrorism, or control of illicit trafficking missions.
The HSI32 has a range of 800 nautical miles (approximately) with a crew of only 12 sailors. This new advanced interceptor comes with a RHIB launching ramp at the stern and a 360° bridge.
The HSI32 is fitted with self-defense capabilities including a 20 mm remote weapon system plus two 12.7 mm machine guns with a field of 360° coverage.
In terms of electronic warfare, the HSI32 comes with advanced detection and surveillance sensors:
» C-ESM
» Electro-optical sensors
» Surveillance radar
» Navigation radar
» Satcom datalink for image, video and tactical data upload and download
All sensors are fused and integrated with the Combat Management System and the Integrated Navigation System.
HSI32 Missions
> Sea policing and maritime security
> Fight against piracy, trafficking, smuggling and illegal immigration
> Protection of vulnerable vessels and offshore installations and escort of convoys
> Combined operations with aircraft and coastal surveillance systems
> Sea strike operations
> Defence against asymmetric threats, speedboats and the boarding of terrorists
> Safety at sea
> Search And Rescue (SAR)
---