---
Spain and Saudi Arabia inked a Letter of Intent (LoI) to design and build five Avante 2200 corvettes for the Royal Saudi Navy. The deal was signed on April 12, 2018 during the official visit of Saudi Crown Prince Mohammed bin Salman in Spain.
---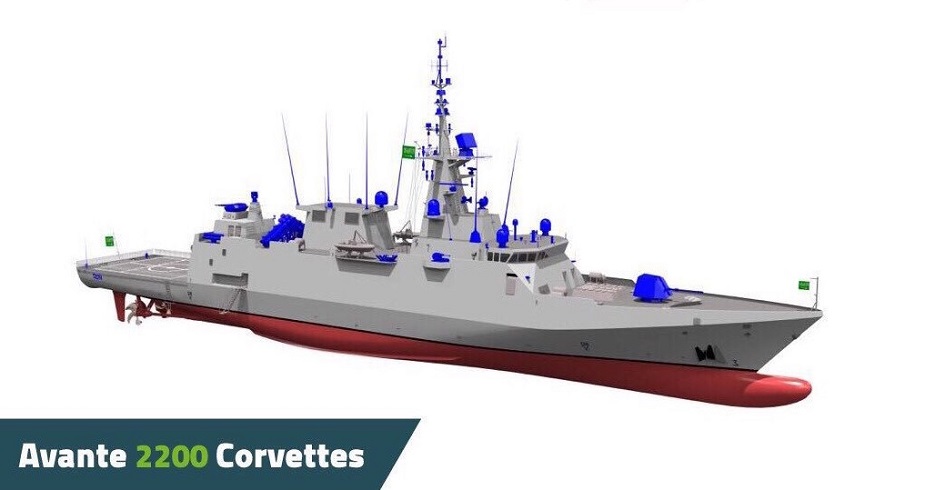 Computer rendering of the Avante 2200 corvettes for the Royal Saudi Navy. Saudi Arabian Military Industries image.

---
Spanish shipbuilding group Navantia and Saudi Arabian Military Industries (SAMI) also signed a Memorandum of Agreement (MoA) to create a joint venture that will manage and localize naval combat systems activity including integration and installation.
The construction of the five Avante 2200 corvettes will be carried out by the Navatia shipyards in Ferrol and Cadiz for five years. SAMI Navantia joint venture will also provide technical support and repairs to the corvettes during their servie life in the Saudi Navy.
Earlier in 2008-2012, Navantia had already built four patrol ships of the project Avante 2200 (POVZEE) for the Navy of Venezuela (Guaiquerí-class). In contrast to the Venezuelan vessels, the Saudi corvettes will be more powerfull and more multirole.
Based on the above rendering, the armament of the Saudi ships will be consist of:
- 2x4 Boeing Harpoon Block II anti-ship missiles
- 16x vertical launchers for Raytheon ESSM surface to air missiles
- 1x 76 mm Leonardo Super Rapid naval gun system
- 1x 35mm Rheinmetall Oerlikon Millenium CIWS
- 2x remote weapon stations
- 2x triple 324-mm torpedo launchers.
- 2x CHAFF decoy launchers
- 1x Multi function radar (possibly TRS-3D)
- A hangar and helicopter pad to accommodate a 10-ton class helicopter.

According to the data from Navantia, the total displacement of these corvettes is over 2,500 tons, the length of the hull is 98.9 m. The two diesel power plants will provide a speed of up to 25 knots. The crew will consist of 92 sailors.
---