---
The overhaul of the Admiral Kuznetsov aircraft carrier of project 11435 will begin in May and the vessel will be armed with new upgraded air defense, including seaborne Pantsyr-M missile guns, Russian Navy Deputy Commander-in-Chief Viktor Bursuk said.
---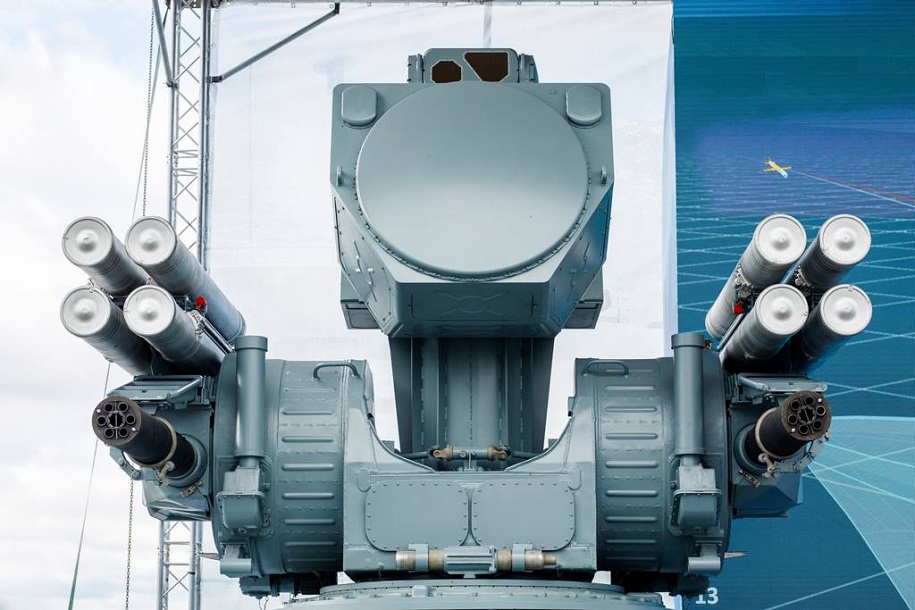 The naval missile and anti-aircraft artillery weapon system Pantsir-ME developed by the Tula KBP (part of the High Precision Systems Holding) provides protection against modern air threats, including low-flying and small-size unmanned aerial vehicles. Rostec picture.
---
"The work will begin in May and the fleet hopes to receive the Admiral Kuznetsov back in 2021," he said.

"It will have a better air defense with new seaborne Pantsyr. Power equipment will also change. There will be new boilers, pumps and flight systems - landing, monitoring, control, etc.," Bursuk said.
The United Shipbuilding Corporation said Zvyozdochka shipyard received the contract of the Defense Ministry to overhaul the Admiral Kuznetsov. The shipyard said the aircraft carrier would be overhauled by its 35th affiliate in Murmansk.

The Admiral Kuznetsov aircraft carrier of project 11435 is designated to win supremacy at sea and in the air to promote sustainability of the naval forces, strike at adversary positions, and support landing operations. The warship became operational in 1990. Its full displacement is 58 thousand tons and the length is 304.5 meters. Full speed power is 200000HP and the speed is close to 30 knots. Besides an air wing of 24-26 aircraft and 12 helicopters, the Admiral Kuznetsov is armed with anti-ship and anti-aircraft missiles. It has a skijump and 2 aircraft elevators to facilitate the operations of the aviation. The crew of the carrier comprises 1300 men and the personnel of the air wing is 660 people.
---
© Copyright 2018 TASS. All rights reserved. This material may not be published, broadcast, rewritten or redistributed.
---
Comment by Navy Recognition
Admiral Kuznetsov aircraft carrier is currently fitted with 6x AK-360 CIWS (30mm Gatling guns) and 8x CADS-N-1 Kashtan CIWS (a system combining 30mm Gatling guns and 3K87 Kortik SAM). The Panstyr-M is likely to replace the ageing Kashtan system.

The Pantsir-M is based on the land based Pantsir-S1, but has a different artillery system- as can be seen on the above pictures, including two GSh-6-30K / AO-18KD 30mm six-barrel guns as found on the Kasthtan CIWS. Pantsir-M also comes with an additional radar system, separate from the one fitted ontop of the turret itself.

The land based Pantsir-S1, produced by Russia's KBP is a gun-missile system combining a wheeled vehicle mounting a fire-control radar and electro-optical sensor, two 30-mm cannons and up to 12 57E6 radio-command guided short-range missiles, and is designed to take on a variety of targets flying at low altitudes. Link to Pantsir-S1 technical datasheet

According to Rostec, The Pantsir-M complex combines a powerful artillery weapon system, effective multimode missiles and an integrated multispectral radar and optical fire control system fitted on the turret.

The combat capability and kill capacity of one channel of these missile and artillery systems are 2 to 4 times higher than those of systems comprising only artillery weapons.
Engagement zone:
- missiles, km: range: 1.5-20; altitude: 0.002-15
- artillery, km: range: 0.3-4; altitude: 0-3

Number of targets simultaneously engaged by one module: 4
A combat module can be operated independently or within a battery consisting of 4 modules.
Control system - radar and electro-optic, television + thermal imager, laser rangefinder
Automated control system
All-weather 24/7 operation
All the stages of combat performance are performed in motion

---
Video on the Kashtan CIWS currently fitted on the sole Russian aircraft carrier

---