---
Army Recognition Group is pleased to announce the launch of the completely redesigned website www.navyrecognition.com, one of the most popular naval defense online magazine. The new version of the website was launched for the new year. We would like to take this opportunity to extend our very best wishes for 2018 to our subscribers, readers and customers around the world, thank you for your continued support.
---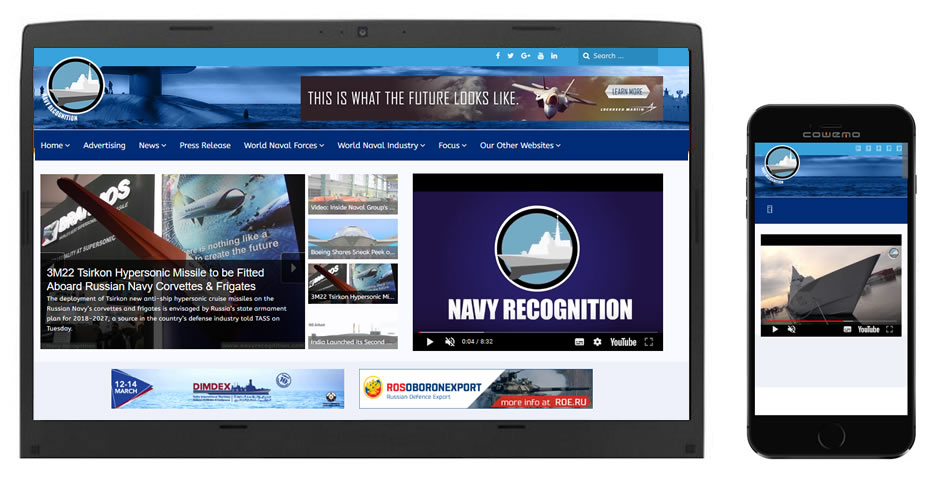 Navy Recognition is now available on all platforms.

---
The Navy Recognition website has been completely redesigned and adopts a new, more modern style. For this new website we focused on aesthetics, simplifying our content, and increasing the visibility of our articles. The new design also allows clearer navigation, and a responsive layout for all platforms (desktop, laptop, tablets and smartphones).
"www.navyrecognition.com has been around since 2011 and it is important for us to constantly answer our visitors' needs. That's why we decided to create a completely redesigned version of our website, with a much more modern layout to offer the best user experience to our readers" said Alain Servaes the CEO of Army Recognition Group.
"This new website illustrates our commitment to continue our growth: Launched in 2011, Navy Recognition passed 1 million visitors in 2015, 1.3 million visitors in 2016 and 1.5 million visitors in 2017. The new design will help us becoming one of the most trusted source of global naval defense news" said Xavier Vavasseur, the Editor in Chief of Navy Recognition.
---