---
The People's Liberation Army Navy (PLAN or Chinese Navy) commissioned its 26th Type 054A Frigate (Jiangkai II-class) "Rizhao" (hull number 598). The Commissioning ceremony took place on January 12, 2018 at Lüshunkou naval base (Liaoning province). The frigate joins the PLAN North Sea Fleet. The previous Type 054A Frigate, 25th in the class, was commissioned in July last year.
---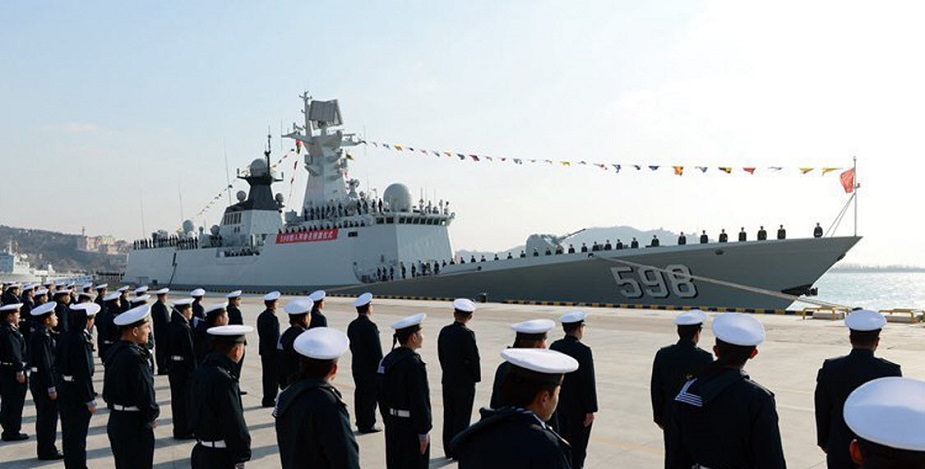 Commissioning ceremony for Type 054A Frigate "Rizhao". PLAN picture.
---
There are now four Type 054A Frigates in the 10th destrpyer flottila of the PLAN North Sea Fleet: 576 Daqing (commissioned in 2015), 579 Handan (2015), 539 Wuhu (2017) and now 598 Rizhao (2018). However, two more frigates are still lacking for the unit to be considered complete: The new organization calls for six frigates and six destroyers in a fleet of destroyers, which corresponds to an expansion of around 50% compared to the previous format.

Type 054A Frigate
Based on the Type 054 Frigates, the Type 054A incorporates a larger number of more-advanced indigenous systems. The first of class entered service with the PLAN in January 2008.
Type 054A Frigates are fitted with 32 VLS (Vertical Launch System) cells for HQ-16 surface to air missiles, 8x YJ-83 (export designation C-803) anti-ship missiles, a H/PJ-26 76mm main gun, two H/PJ12 seven-barreled 30mm CIWS guns (for frigates 1 to 16 in the series) or H/PJ11 eleven-barreled 30mm CIWS for new vessels starting with Huanggang (hull number 577) the seventeenth ship of the class. Two triple YU-7 torpedo launchers and YU-8 anti-submarine rocket launchers are fitted for ASW warfare.
---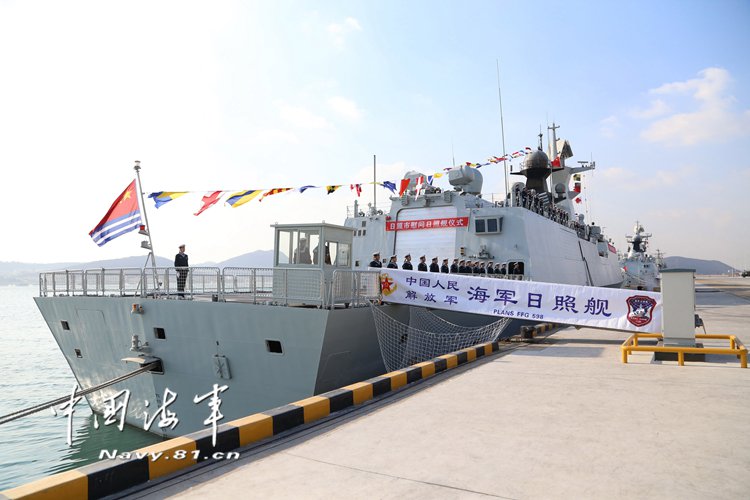 Commissioning ceremony for Type 054A Frigate "Rizhao". PLAN picture.
---
Rizhao was launched on April 1, 2017 at the Huangpu shipyard in Guangzhou. This first line surface combatant is the 13th frigate of the class built in this shipyard and the 26th in service for the Chinese Navy, which started introducing this new class of versatile frigate 10 years ago in January 2008.
The Rizhao frigate is 134.1 meters long, 31 meters high and displaces 4 270 tons full load. The vessel has a range of over 4,000 nautical miles at a cruising speed of 18 knots.
Note that the frigate entered service 104 days ahead compared the average observed on the 25 previous vessels. It is expected that there will be two more Type 054A frigates commissioning this year, with Anyang by the end of April and the Xianning by October.
The Type 054A is, pending the arrival of its successor Type 054B electric propulsion, the best anti-submarine warfare platform of the Chinese Navy. It is equipped with a complete suite dedicated to this function, including a hull sonar, a towed variable depth sonar, an acoustic control system, submarine communication and of course torpedoes.

With information and pictures from our colleagues at Eastpendulum
---