---
The official media of South Korea's military is reporting that the last Gumdoksuri-class fast patrol ship was commissioned with the Republic of Korea Navy (ROK Navy) on January 11, 2018. Jeon Byeongik (전병익) is the final of 18 PKG (or PKX-A) class patrol vessels.
---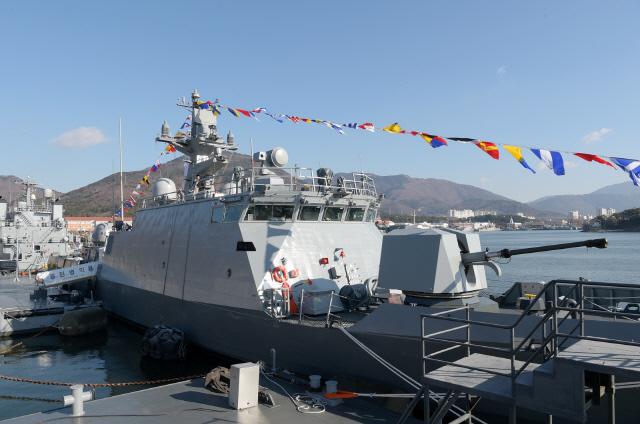 The last PKG of the ROK Navy, Jeon Byeongik, was commissioned on January 11 at Jinhae Naval Base.
---
The ceremony held at the Jinhae naval base, near Busan (Southern South Korea) was attended by more than 100 people including Han Dong-jin (chief of staff).
Jeon Byeongik was built by STX Offshore & Shipbuilding and launched on 24 June 2016. Displacing 560 tons, the vessel has a total length of 63m, a total width of 9m and a maximum speed of 44 knots.
The class is fitted with a Hyundai Wia 76mm gun main gun, one S&T Dynamics 'No Bong' 40L/70K dual 40mm gun aft, 4x LIG Nex1 SSM-700K Hae Sung anti-ship missiles, LIG Nex1 Chiron MANPADS and 2x S&T Dynamics K6 12.7 mm machine guns. The crew complement is 40 sailors.
The PKX-A is being followed by the PKX-B program. The first vessel has been delivered to the ROK Navy in October last year.
---