---
While underway for Independent Steaming Exercise Five, USS Gerald R. Ford (CVN 78) completed 401 catapults and arrestments, bringing the total to date to 747. On the final day, Jan. 19, the Ford and Carrier Air Wing 8 team completed 135 traps.
---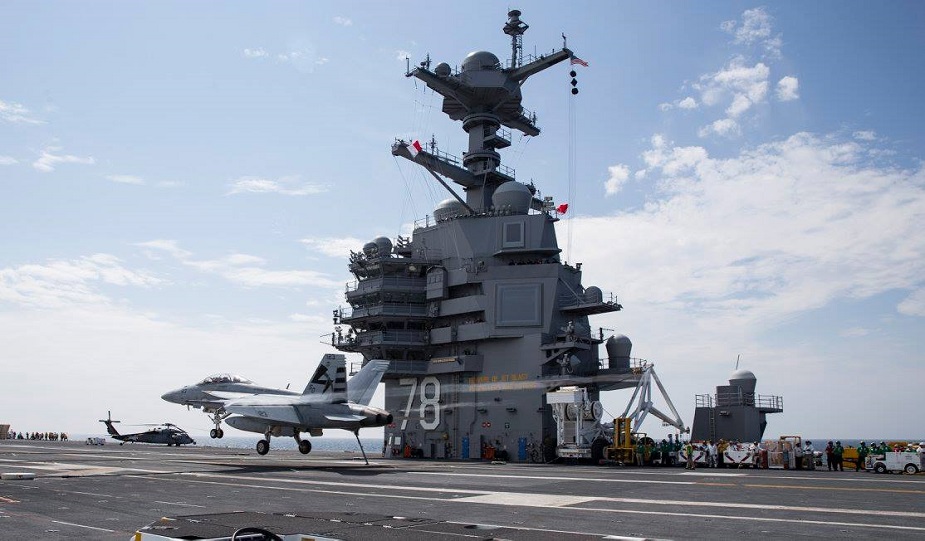 ATLANTIC OCEAN - An F/A-18F Super Hornet prepares to land on the flight deck of the aircraft carrier USS Gerald R. Ford (CVN 78). Ford is underway conducting test and evaluation operations. (U.S. Navy photo)
---
Several commands came together to complete this phase of testing, to include VFA-31 "Tomcatters", VFA-213 "Black Lions", VFA-87 "Golden Warriors", and HSC-9 "Tridents".
The next opportunity for fixed-wing flight operations will be after Ford completes its planned maintenance availability.
Ford successfully tested its first-in-class technology, the Electromagnetic Aircraft Launching System (EMALS) and Advanced Arresting Gear (AAG) on July 29. Since then Ford's air department has worked countless hours to get to this point.
"It's a great sense of accomplishment, not only for me but for my crew as well," said Aviation Boatswain's Mate (Equipment) 1st Class Reginald Leonard, V-2 division arresting gear leading petty officer, from Marshall, Texas. "We came through all the adversity, received good test data."
The main challenge, said Leonard, came from testing a brand new system that no other Navy Sailor had even seen before, let alone worked on.
"It had to have been the toughest part," said Leonard. "During all those times, I sat my Sailors down, explained to them what we were doing, what the mission was and told them to push through."
---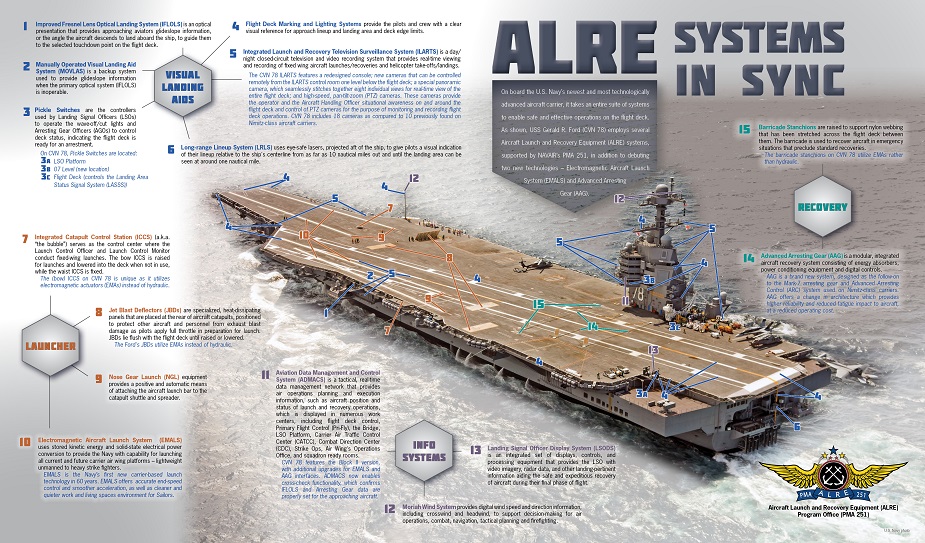 This infographic shows the aircraft launch and recovery equipment (ALRE) aboard the USS Gerald R. Ford (CVN 78). US Navy image. (Click here for high resolution).

---
Ford is the lead ship of its class and the first new-design aircraft carrier delivered to the Navy since USS Nimitz (CVN 68) in 1975. It is also the first aircraft carrier to join the fleet since USS George H. W. Bush (CVN 77) delivered in 2009. The future USS Gerald R. Ford honors the 38th president of the United States and pays tribute to his lifetime of service to the nation in the Navy and in the U.S. government.
The next generation of aircraft carrier, the Gerald R. Ford class delivers unprecedented flexibility to the fleet. Due to a larger flight deck, the ability to host more aircraft, additional weapons and aviation fuel storage, and the Electromagnetic Aircraft Launch System and Advanced Arresting Gear, Ford will be able to increase sortie rates by one-third when compared to the Nimitz class. Further, the Navy's newest aircraft carrier generates three times the amount of electricity as previous classes and is designed to rapidly add capabilities as new systems become available over the course of its projected 50-year service life.
President Donald J. Trump commissioned the aircraft carrier USS Gerald R. Ford (CVN 78) at a commissioning ceremony July 22 2017. Ford is expected to be operational in 2020 following achievement of initial operational capability.
---