---
Malakhit Design Bureau has acquired the necessary experience to launch R&D and create an air-independent power plant for a prospective non-nuclear submarine, the annual statement of the enterprise said.
---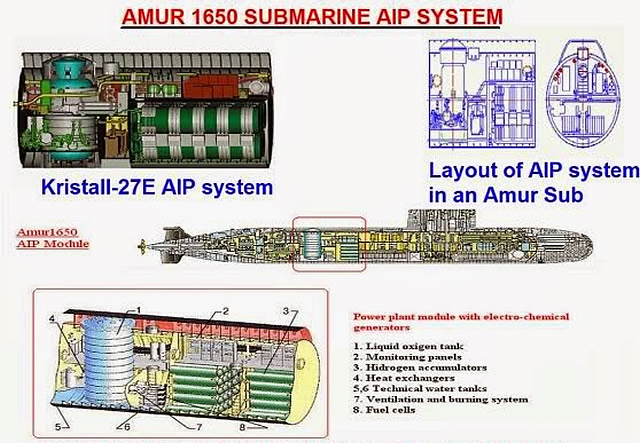 AIP system on the AMUR class submarine (for illustration purpose only)

---
"Prototype trials held in 2016-2017 confirmed the operability of the power plant as a surface and underwater engine. Thus, the necessary technical experience has been obtained for R&D to create a specific project with a low level of risk. The power plant has no direct analogues in foreign and domestic designs," it said.

Malakhit in St. Petersburg initiated in 2010 the design of an air-independent power plant with a gas turbine operating by a closed cycle. A prototype was created in 2015 and is undergoing test trials.
Bureau CEO Vladimir Dorofeyev earlier told TASS Malakhit was designing a power plant for non-nuclear submarines with a displacement below a thousand tons. Rubin Design Bureau is also creating an air-independent power plant for non-nuclear submarines. The Russian Navy said it expects to get the power plant from Rubin in 2021-2022.
---
© Copyright 2018 TASS. All rights reserved. This material may not be published, broadcast, rewritten or redistributed.
---