---
JFD, the world leading underwater capability provider serving the commercial and defence markets, and part of James Fisher and Sons plc, has successfully completed the first open sea launch, dive and recovery of the deep search and rescue vehicle (DSRV) for the first of two 3rd Generation Submarine Rescue Systems being delivered to the Indian Navy, the company has announced.
---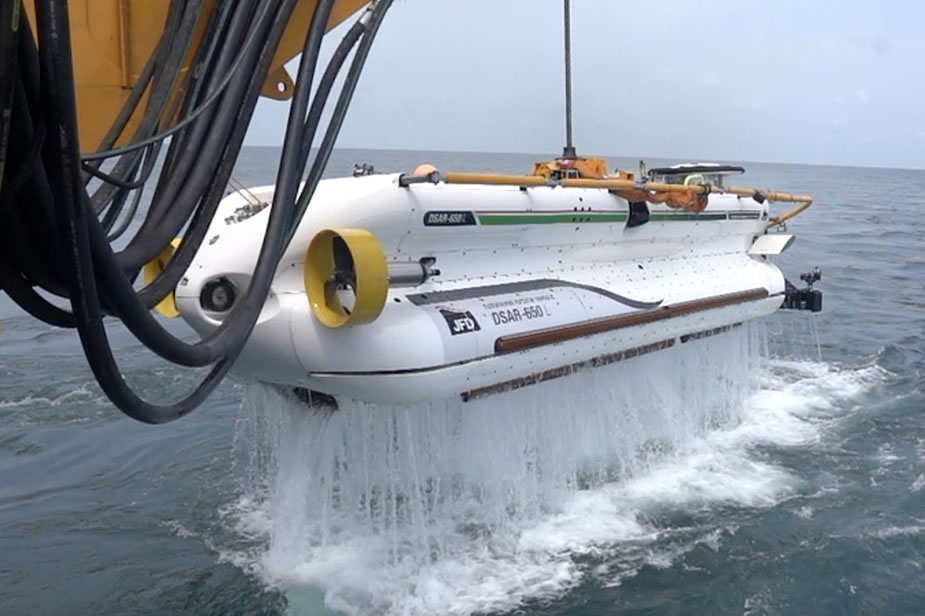 The System was tested in the harsh environment presented by the seas off Mumbai pre monsoon, an entirely different set of challenges compared to those experienced during harbour trials in Scotland earlier this year. JFD Picture.

---
The DSRV completed a full launch deployment, dive and recovery in open sea, replicating the operating conditions of a real submarine rescue operation. The completion of this phase of open sea trials represents a significant milestone in the ongoing delivery and acceptance of the 3rd Generation Submarine Rescue System, which is grounded in a rigorous trials and testing process that ensures the highest safety standards are upheld.
Following the delivery of the first system to the Indian Navy in April this year, JFD deployed a team of 30 expert personnel to India's west coast to support the mobilisation followed by a period of rigorous sea trials, working in close partnership with the Indian Navy who provided the commercial mothership and associated trials consort vessels. The Indian Navy west coast based rescue team, who will operate the system when in service, were active participants throughout this phase of the trials.
JFD's 3rd Generation DSRV marks a pioneering step-change in real world submarine rescue capability. It is weight optimised for maximum payload and optimum transportability, and is capable of operating at greater depths than most submarine rescue vehicles. The 3rd Generation DSRV has been specifically designed to optimise speed and manoeuvrability, both crucial factors in conducting a successful rescue operation, and the vehicle has the capability to mate with any submarine, even those that might be subject to inclination on the seabed.
The 3rd Generation Submarine Rescue Systems incorporate an innovative new system design and tightly integrated components to ensure time-to-first-rescue (TTFR) – the time measured between system deployment and commencement of the rescue - is minimised. In the event of an accident, this maximises the chances of a successful rescue, which is crucial in protecting the lives of submariners.
JFD has over 35 years' experience in submarine rescue operations, and provides fast, safe and reliable subsea rescue services, solutions products, engineering services and training to 80 countries and 33 of the world's navies including the Royal Navy, Australian, Singapore, and Korean Navies, as well as providing the NATO Submarine Rescue System. JFD is also the incumbent provider of many other underwater products and support services to the world's navies.
---