---
Minister of Defence Jussi Niinistö authorised the Finnish Defence Forces' Logistics Command to make an agreement on purchasing Surface-to-Surface Missile System 2020 (SSM2020), on 5th July 2018.
---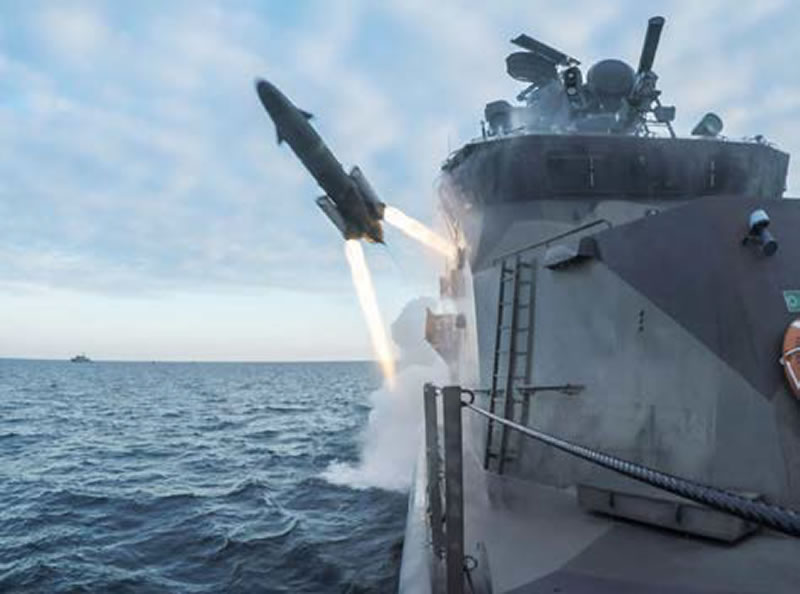 The Finnish Navy selected IAI's Gabriel "Advanced Naval Attack Missile" to replace the RBS-15 Mk2 (pictured here). The new missiles will be fitted on Hamina-class and Squadron 2020-class vessels and on a vehicle platform. Finnish navy picture.

---
The system to be purchased will replace the current anti-ship missile system MTO85M that will reach the end of its lifecycle in the 2020s. The new SSM2020 Missiles will be installed on board the Hamina Class and Squadron 2020 Class vessels and on a vehicle platform. The procurement will have an impact on the Finnish Defence Forces' operations and on the Finnish Navy's capabilities until the 2050s.
The decision to purchase the Israeli Gabriel Missile System has been made as a result of competitive bidding. The submitted quotations were from the following systems: NSM (Kongsberg, Norway); EXOCET (MBDA, France); Harpoon (Boeing, USA); RBS15 (SAAB, Sweden) and Gabriel (Israel Aerospace Industries, Israel).
The main selection criteria included performance vis-à-vis acquisition costs and schedule, lifecycle costs and security of supply, and compatibility with existing infrastructure and defence system. Details concerning quantities of the system to be purchased will not be made public.
The purchase will include the launchers, the missiles, simulators, test equipment, spare parts and training. The deliveries will take place between the years 2019 and 2025.
The acquisition value (VAT 0 percent) is EUR 162 million, with a EUR 193 million option.
SSM2020 is an important part of the Finnish Defence Forces' performance and that is why the maintenance capabilities will be in Finland. The security of supply for the whole lifecycle will be insured. The domestic employment effect of the procurement is approximately 179 persons between the years 2022 and 2050.
Surface warfare refers to the ability to use fires against enemy's surface vessels. The surface warfare capability of the Finnish Navy includes the use of missiles, naval mines and coastal artillery fires. The missile is capable of long range effect and can also be able to be used against land targets. The new system will create a deterrent and a threat to the adversary as well as a capability for Finland to respond to the threats of the modern and developing battle field also in the future.

According to Israel Aerospace Industries, the latest variant of the Gabriel familly of anti-ship missile is the Gabriel V. Known as the "Advanced Naval Attack Missile" it uses an advanced active radar seeker and a sophisticated weapon control system to achieve very high operational effectiveness.

Update 1: Contacted by Navy Recognition, Captain Valkamo of the Finnish Navy Command could not disclose the exact variant of Gabriel missile that has been selected by the Finnish Navy "It is classified information". The captain confirmed however that the new missile will be able to hit land target in addition to sea-surface targets.

Update 2:
Following Finland Government's announcement of Surface-to-surface Missile system contract entered with Israel Aerospace Industries (IAI), IAI CEO& president Mr. Joseph Weiss said today:
"We are proud to welcome this first of its kind deal in Europe on sale of IAI's surface-to-surface missile system to Finland. This contract is a first and strategic landmark for us in Europe and a significant breakthrough in our operations in this field. Finland's government chose IAI after an in-depth review of multiple bidders. The selection process of IAI testifies for our technological and system-wide capabilities as the global leader in one of the most important missile categories."
---