---
The NATO Seasparrow Project Office recently conducted a successful flight test of the Evolved Seasparrow Missile (ESSM) Block 2, intercepting a BQM-74E aerial target, the U.S. Navy announced, July 5.
---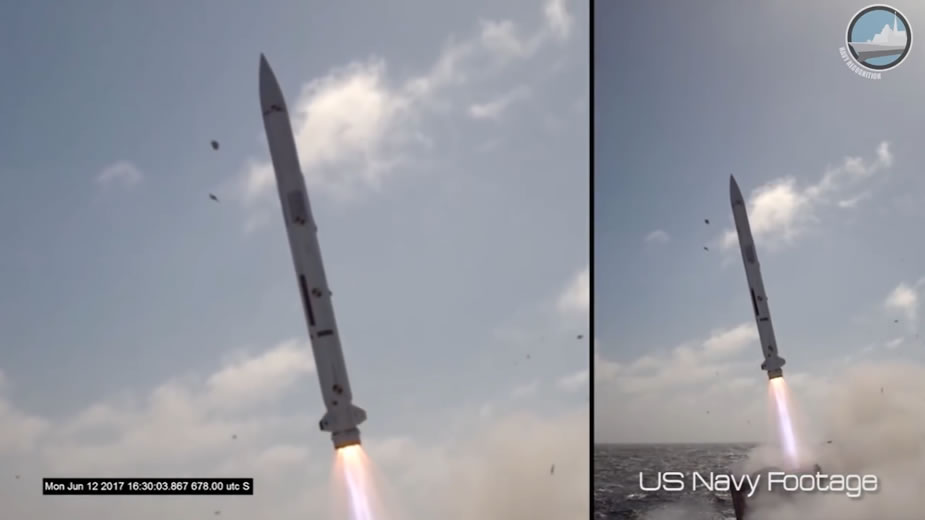 File picture: ESSM Block 2 vertically launched

---
The test is the first ESSM flight test to utilize the new Block 2 active guidance seeker-head. ESSM Block 2 will employ both semi-active and active guidance to meet current and anticipated future threats.
This test follows the successful completion of two Controlled Test Vehicle flight tests in June 2017 and is the first in a series of live fire tests that will lead to the ESSM Block 2 missile entering production.
"This flight test is critical to demonstrating the technology for the ESSM Block 2," said Capt. Bruce Schuette, project manager for the NATO Seasparrow Project. "I am very proud of the entire NATO Seasparrow Project Team, from our industry partners to our field activities and test facilities, for all the extensive work that went into making this event a success."
The NATO Seasparrow Project is an international consortium of 12 nations consisting of Australia, Belgium, Canada, Denmark, Germany, Greece, The Netherlands, Norway, Portugal, Spain, Turkey and the United States. The 12 member nations are partners in engineering, development, production and sustainment of the missiles and supporting equipment. Established in 1968, the NATO Seasparrow Project is the longest running, most successful cooperative weapons program in NATO and is celebrating its 50th Anniversary this year.

About ESSM
ESSM is a medium-range, all-weather, semi-active radar-guided missile used in surface-to-air and surface-to-surface roles. ESSM represents more than four decades of technology and design improvements by a 43-year international cooperative partnership composed of 12 nations, 10 of which employ ESSM (and FMS to 3 countries: Japan, UAE and Thailand).
As a tail-controlled missile, ESSM uses enhancements to its guidance system to take advantage of improved seeker sensitivity, increased propulsion and greater weapon accuracy. These features enable ESSM to arrive at the intercept point with more endgame speed and agility to counter the threat.
ESSM's capability bridges the gap between close-in air defense and local area defense systems. Its kinematics result in reduced time to target. It is a Multi-mission weapon system is effective against high-speed or low-velocity threats.
According to open sources, the RIM-162 Evolved SeaSparrow Missile (ESSM) has a range of about 27 nautical miles (50 Km) and a top speed of Mach 4+.
Unlike Block 1, Block 2's active radar homing seeker will support terminal engagement without the launch ship's target illumination radars. The improved ESSM Block 2 will be fielded by the US Navy from 2020.
---