---
Naval Group has started to select the first equipment suppliers for the five future intermediate-size frigates (FTI) intended for the French Ministry of Defence.
---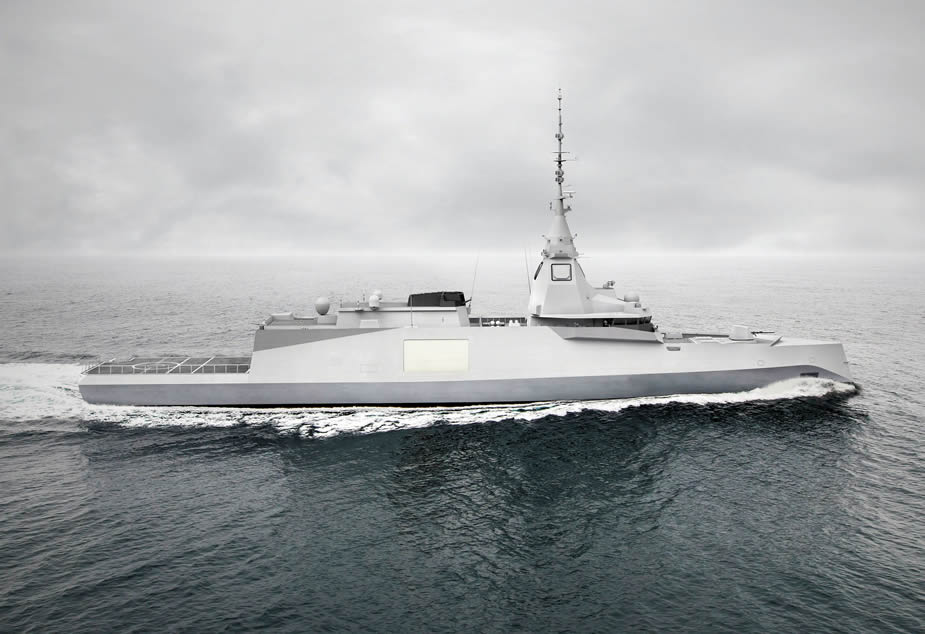 Artist impression of a French Navy FTI underway. Naval Group image.

---
In the framework of the execution of the contract awarded by the French Defence Procurement Agency in April 2017, Naval Group initiated its process of selecting the programme's industrial suppliers for the five future intermediate-size frigates, the first of which will be delivered to the French Navy in 2023.

Purchases represent a significant proportion of the value of a warship; it is essential for Naval Group, as system engineering leader and integrator, to select the most effective suppliers and subcontractors and develop partnerships with them.

Frédéric Massa, Director of Naval Group Purchasing: explains, "We expect a lot from our suppliers. Their innovative and competitive solutions will contribute to delivering technological superiority in the theatre of operations. The success of the program is dependent on them fulfilling their commitments: timely delivery of input data and equipment for which they are responsible, with the expected quality level. We therefore selected them for their capacity to deliver on this strategic programme for France."

To date, the main suppliers selected are:
> Axima, for heating, ventilation and air conditioning (HVAC) systems;
> CNIM, for sonar hatches and torpedo hatches;
> Ixblue for navigation units and their computers;
> Leonardo for 76 mm medium calibre artillery systems;
> MBDA for integration and services relating to missile-firing installations;
> MTU, one of the world's leading manufacturers of large diesel engines;
> Safran Electronics & Defense for the optronic identification system incorporating the very long range of the PASEO XLR (eXtra Long Range) sight;
> Thales, for the sonar suite, the electronic warfare suite, the IFF (Identification, Friend or Foe) and the communications system.

The French version of the Belh@rra, a world-class frigate of an approximate displacement of 4,000 tonnes intended for anti-submarine warfare, is designed to respond to the various French national needs. It will be endowed with extended self-defence and special forces projectioncapacities. Furthermore, it will integrate the new Thales SEA FIRE four flat antenna radar and will be equipped with reconfigurable firing installations for Aster 30 and Exocet missiles from MBDA.

---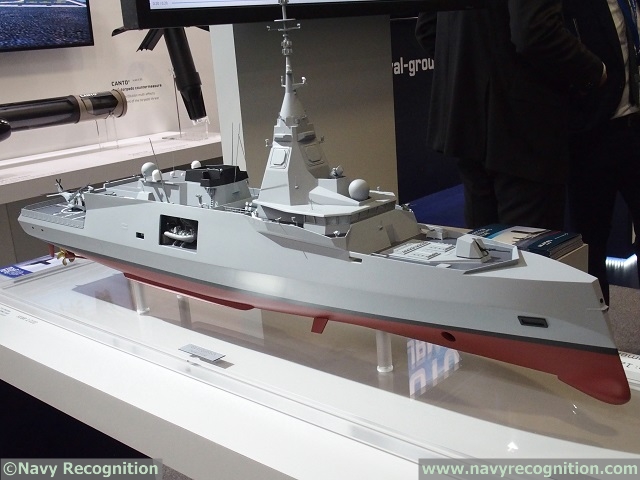 The Belharra scale model showcased by Naval Group at Pacific 2017 in Australia features several design improvements compared to the original design unveiled one year ago at Euronaval 2016.

---
About the FTI
The French Defence Ministry announced the attribution to DCNS (now Naval Group) of a contract for the development and construction of five FTI (Frégate de Taille Intermédiaire or mid-size frigate) surface combatant intended for the French Navy in April this year. The first of the five frigates from this DGA-managed programme should be delivered in 2023 with an entry into active duty in 2025.
The FTI will have a displacement of about 4200 tonnes with a crew of 125 sailors. It will be capable of anti-submarine warfare, anti-air warfare, anti-surface warfare as well as the support of special forces missions.
The prime contractor is Naval Group while Thales is set to supply a number of brand new, next-gen systems:
- The CAPTAS-4 Compact sonar
- The SEA FIRE radar
- Aquilon integrated naval communication system
- The SENTINEL electronic warfare system
Safran Electronics & Defense will supply a new electro-optical FCS, the PASEO XLR.
Provisional configuration (to be confirmed):
76mm main gun
2x Narhwal 20mm remote guns
8x Exocet MM40 Blk III anti-ship missiles
2x Sylver A50 launchers for 16x Aster 30 missiles
Space for 2x extra Sylver A70 launchers
MU90 torpedoes
Hangar for one NH90 helicopter and one UAV
Fitted for 4x Sylena Mk2 decoy launchers but with 2x of them.
---