---
Rolls-Royce has received its first order for the new sixteen-cylinder engines in its successful Series 8000 range: French shipbuilder Naval Group has ordered a total of 20 MTU 16V 8000 M91L engines, each delivering up to 8,000 kW of mechanical power.
---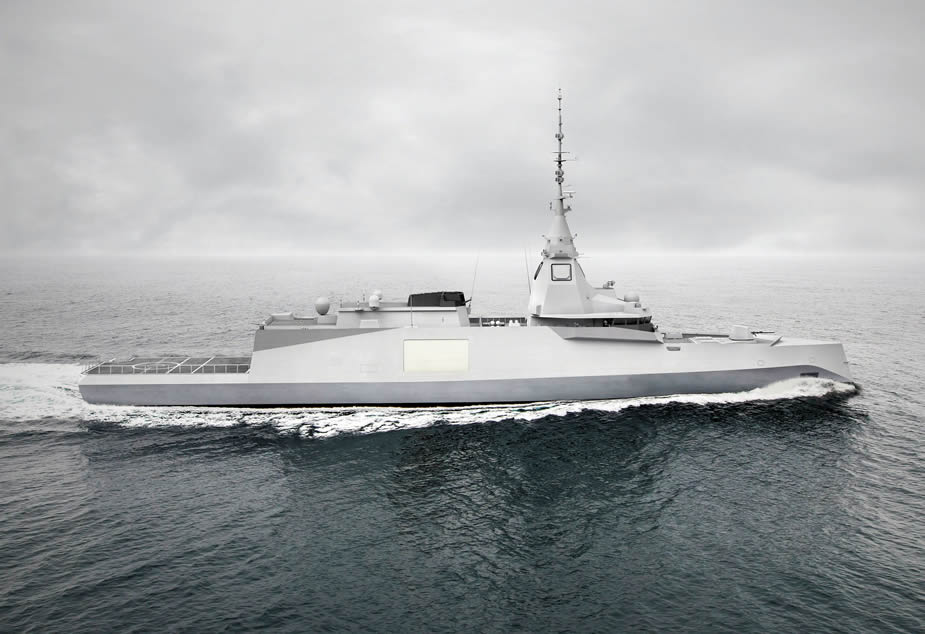 Artist impression of a French Navy FTI underway. Naval Group image.
---
These are to be installed in the French Navy's five new FTI-type frigates (Frégates de Taille Intermédiaire – medium-sized frigates) from 2023 onwards. The engines are due to ship between the end of 2020 and 2027.

Knut Müller, Head of Marine & Government Business at MTU, said: "We are proud to have succeeded in convincing Naval Group and the French Navy of the merits of our new engine, and to have the opportunity of powering these leading-edge vessels with their all-new design."

With the 16V 8000 engine, MTU has expanded its portfolio of well-proven marine engines in the very high power class. The Series 8000 now covers the power range from 7,200 to 10,000 kW. Like its 20-cylinder counterpart, the 16-cylinder engine excels with low overall operating costs, high power density and low environmental impact while meeting both IMO Tier II and EPA Tier II emissions limits, with the ability to meet other standards as required.

The American Bureau of Shipping (ABS) has awarded its Naval Vessel Rules (NVR) certificate to all models in the Series 8000 line-up, putting them among the first modern, ABS-certified engines in their power class. Another key factor in winning the FTI project was the engine's extremely low structure-borne noise levels, as verified by MTU using a trial engine.

The FTI vessels are each to be powered by four 16V 8000 engines forming a combined diesel-and-diesel (CODAD) propulsion system, with two diesel engines connected to each of the ship's dual prop shafts. The propulsion system will produce a total power output of 32 MW, powering the frigates up to speeds of 27 knots. The vessels will have a range of up to 5,000 nautical miles.

With their all-new design, these vessels will be approximately 122 meters long and have a displacement of 4,250 metric tons. Their modular design will ensure they are able to assume a wide variety of roles, including intercepting threats posed by other surface vessels, submarines and aircraft. The on-board digital systems are protected against all forms of cyberattack. Right from the outset, the FTI vessels have also been designed for export markets. Naval Group is marketing the export version under the name Belh@rra, whose unusual spelling references the project's widespread use of digital technology.

The five new frigates are due to enter service by 2030, joining the eight slightly larger Aquitaine-class FREMM frigates to form the backbone of the French Navy. The French FREMM frigates also feature MTU engines, each vessel is equipped with four 16V 4000 M63L engines supplying on-board electrical power and teamed with a gas turbine to form the propulsion system.

MTU and Naval Group (known as DCNS until 2017) have enjoyed a close partnership for over 20 years now, with a total of around 30 submarines and surface vessels built by Naval Group plying the world's seas with MTU engines. One current project is for four 'Gowind' corvettes for the Egyptian Navy, each powered by two 20-cylinder Series 8000 engines. The first of these vessels went into service in September 2017.


About the FTI
The French Defence Ministry announced the attribution to DCNS (now Naval Group) of a contract for the development and construction of five FTI (Frégate de Taille Intermédiaire or mid-size frigate) surface combatant intended for the French Navy in April this year. The first of the five frigates from this DGA-managed programme should be delivered in 2023 with an entry into active duty in 2025.
The FTI will have a displacement of about 4200 tonnes with a crew of 125 sailors. It will be capable of anti-submarine warfare, anti-air warfare, anti-surface warfare as well as the support of special forces missions.
The prime contractor is Naval Group while Thales is set to supply a number of brand new, next-gen systems:
- The CAPTAS-4 Compact sonar
- The SEA FIRE radar
- Aquilon integrated naval communication system
- The SENTINEL electronic warfare system
Safran Electronics & Defense will supply a new electro-optical FCS, the PASEO XLR.
Provisional configuration (to be confirmed):
76mm main gun
2x Narhwal 20mm remote guns
8x Exocet MM40 Blk III anti-ship missiles
2x Sylver A50 launchers for 16x Aster 30 missiles
Space for 2x extra Sylver A70 launchers
MU90 torpedoes
Hangar for one NH90 helicopter and one UAV
Fitted for 4x Sylena Mk2 decoy launchers but with 2x of them.
---