---
The Yasen-M-class Kazan SSGN will be handed over to the fleet in 2019, head of the United Shipbuilding Corporation Alexey Rakhmanov said.
---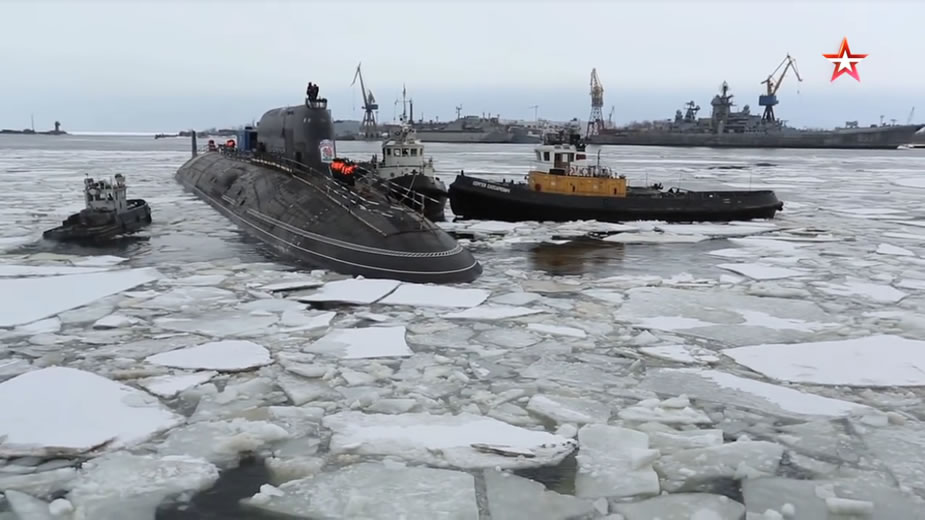 K561 Kazan is the first Project 885M / Yasen-M class SSGN of the Russian Navy. Screen capture from TV Zvezda report

---
"We hope to overcome all problems in the near future and will begin mooring trials. We will finish everything next year. We have to deliver a combat ready product. It is most likely next year," he said.
The new submarine has numerous weapons. Therefore, two planned navigations are unlikely to be sufficient for test trials.
"It is a new step. We are coming closer to the construction of generation 4 plus submarine. Its systems demand fine and scrupulous tuning and our suppliers were not very ready for that," he said.
Fourth-generation SSGN of projects 885 and 885M are designed to destroy surface and underwater targets and adversary ground facilities. The full displacement is 13800 tons. They can submerge to 600 meters and develop an underwater speed of 30 knots. The mixed construction unites a light hull which covers the solid hull in the bow to decrease the signature. For the first time in domestic shipbuilding the torpedo launchers are located not in the bow but behind the central post compartment. The submarines are armed with Onix and Kalibr cruise missiles and a powerful missile-torpedo complex.
---
© Copyright 2018 TASS. All rights reserved. This material may not be published, broadcast, rewritten or redistributed.
---