---
The U.S. Navy held a keel laying ceremony for the Virginia-class submarine Pre-Commissioning Unit Hyman G. Rickover (SSN 795) at General Dynamics Electric Boat, May 11.
---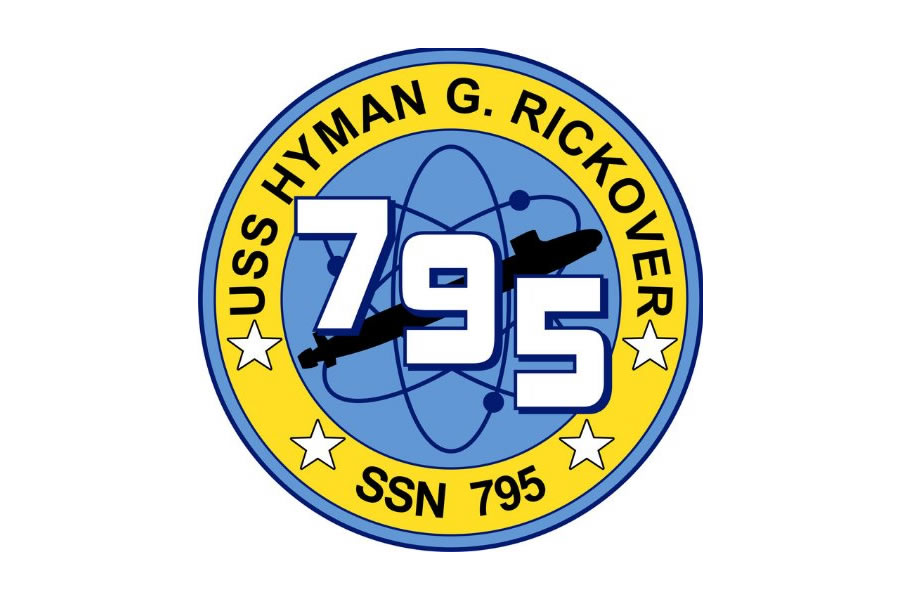 Badge of the future Virgnia-Class submarine USS Hyman G. Rickover (SSN 795)

---
The initials of the submarine's sponsor, Darleen Greenert, were welded onto a steel plate that will be permanently affixed to the submarine. She is the wife of former Chief of Naval Operations Adm. Jonathan Greenert (retired).
Adm. Frank Caldwell, Jr., director of the Naval Nuclear Propulsion Program, stated, "Adm. Rickover's gift to our Nation's defense - safe, reliable, and militarily superior naval nuclear propulsion - is as vital to our warfighting edge today as it was at the beginning of the Naval Nuclear Propulsion Program 70 years ago. The U.S. Navy and our nation are proud to honor his achievements and legacy with this submarine."
The submarine began construction on Sept. 30, 2015 and is on track to continue the Virginia-class program's trend of delivering quality submarines within budget and ready for tasking by the fleet.
This will be the second submarine to be named after Adm. Hyman G. Rickover to honor the pioneer of the nuclear navy. The first submarine named for the admiral was the Los Angeles-Class submarine USS Hyman G. Rickover (SSN 709), which served from 1984 to 2006.
Adm. Rickover served for 63 years on active duty service, making him the longest serving member of the U.S. armed forces in history. In the late 1940's, Adm. Rickover was made director of the Naval Reactors Branch of the Bureau of Ships and he subsequently led the efforts to develop what would become the USS Nautilus, the world's first nuclear-powered submarine. Adm. Rickover also established and enforced strict safety standards, leading to the U.S. Navy's safety record of over 162,000,000 miles safely steamed on nuclear power.
Other Virginia-class milestones this year include the commissioning of the USS Indiana (SSN 789) and the combined keel laying and christening of USS Vermont (SSN 792), both currently projected to occur in the fall.
This next-generation attack submarine provides the Navy with the capabilities required to maintain the nation's undersea superiority well into the 21st century.
Virginia-class submarines are built to operate in the world's littoral and deep waters while conducting anti-submarine warfare; anti-surface ship warfare; strike warfare; special operation forces support; intelligence, surveillance and reconnaissance; and mine warfare missions. Their inherent stealth, endurance, mobility and firepower directly enable them to support five of the six maritime strategy core capabilities-sea control, power projection, forward presence, maritime security, and deterrence.
---