---
The South Korean defense procurement agency (DAPA), Republic of Korea Navy (ROK Navy) and local shipyard Hanjin Heavy Industries and Construction (HHIC) in Busan celebrated the launch of the Landing Platform Helicopter (LPH) amphibious assault ship Marado (LPH-6112). When delivered in 2020, Marado will be the second amphibious assault ship in the ROK Navy fleet.
---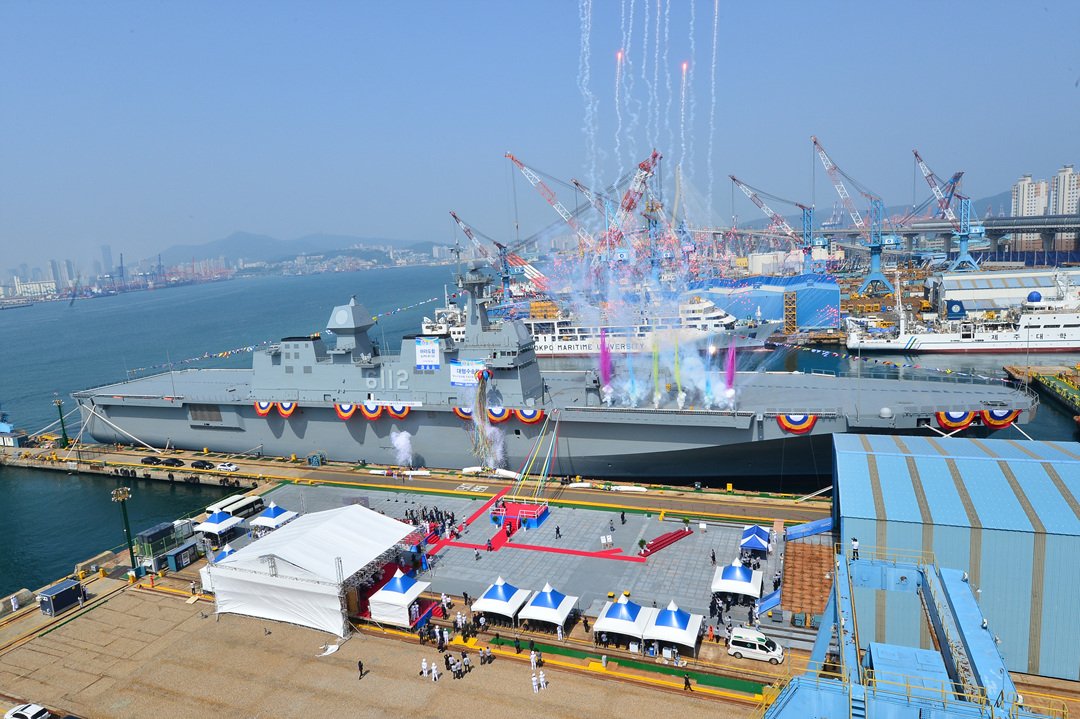 Launch ceremony for the second Landing Platform Helicopter (LPH) amphibious assault ship 'Marado' of the ROK Navy. DAPA picture

---
The launch ceremony took place in Yeongdo, Busan, in presence of Defense Minister Song Young-moo and Admiral Um Hyun-seong, the chief of ROK Navy.
In October 2010, South Korean parliament decided on the construction of the second LPH and after a series of new deferrals on government decisions, on December 23, 2014, DAPA signed a contract with HHIC worth 417.5 billion won (about 380 million dollars) for the construction of this ship.
HHIC completed the technical design review of the ship in March 2016 and cut the first steel in November 2016. Marado's keel was laid on April 28, 2017.
---
Video on Marado

---
HHIC designed and built the first ROK Navy LPH 6111 Dokdo, commissioned in July 2007. This second vessel is based on Dokdo but features several improvements. "The Marado is basically similar to the Dokdo, but equipped with improved equipment and an improved system," a DAPA official said.
According to DAPA, Marado is fitted with new navigation radar, infra-red sensors and fixed panel 3D surveillance radar (in place of the Thales SMART-L 3D radar fitted aboard the Dokdo), all developed in South Korea. The ROK Navy also mentioned a new anti-ship missile defense. "Domestic weapon systems such as navigation radar, anti-missile defense system, and improved combat system will be installed in Korea, and anti-aircraft detection capability is also improved by installing a fixed air defense radar. In addition, major equipment and facilities such as propellers and lifts are also localized, which will improve maintenance and reduce maintenance costs." says the (translated) press release.
Another major difference is that Marado's flight deck has been adapted to accomodate the Bell Boeing V-22 Osprey tilt rotor aircraft. Several DAPA images show the Osprey on the flight deck. Based on DAPA images, Marado appears to be fitted with two Phalanx CIWS: one at the bow and one at the stern.
---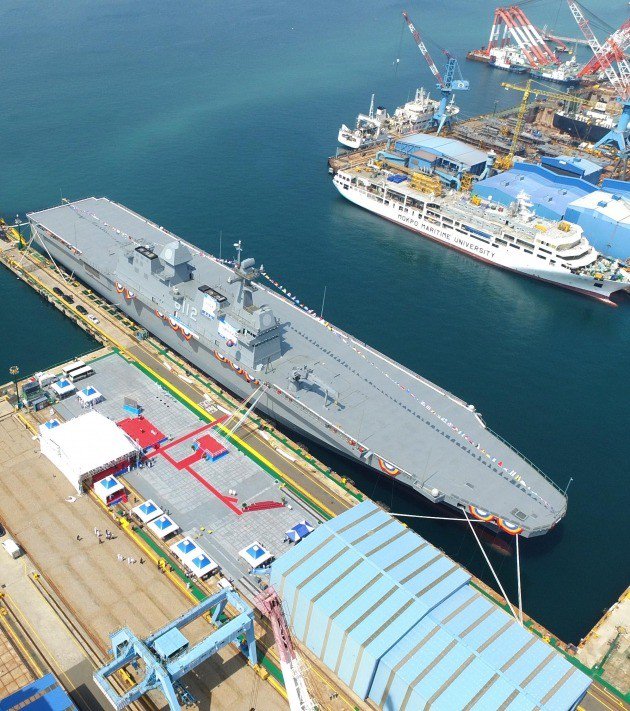 Launch ceremony for the second Landing Platform Helicopter (LPH) amphibious assault ship 'Marado' of the ROK Navy. DAPA picture
---
Marado has a length of 199 meters, a width of 31 meters for a displacement of 14,500 tons . Its maximum speed is 23 and its range is 10,000 nm at 18 knots. Its crew complement is 300 sailors. These specifications are similar to those of the Dokdo.
The Marado payload capacity, if similar to Dokdo is: Up to 720 fully equipped marines, 10 tanks, 10 trucks, 7 AAVs, 3 artillery systems. Well-deck has capacity for 2 LCU type landing craft or 2 Landing Craft Air Cushion (LCAC). All types of vehicles (Jeeps, IFV, MBTs, APCs, Engineering) as well as soldiers can be loaded into landing craft inside the well-deck and taken to shore. Below deck hangar capacities for up to 15 helicopters including some V-22. Flight deck to accommodate simultaneously up to 5 helicopters of all types in service with NATO.
"The Marado vessel reflects the development of South Korean military technology. By using South Korean technology for most of the ship's equipment, we also can expect a reduction in maintenance costs," the Navy and DAPA said in a statement.
---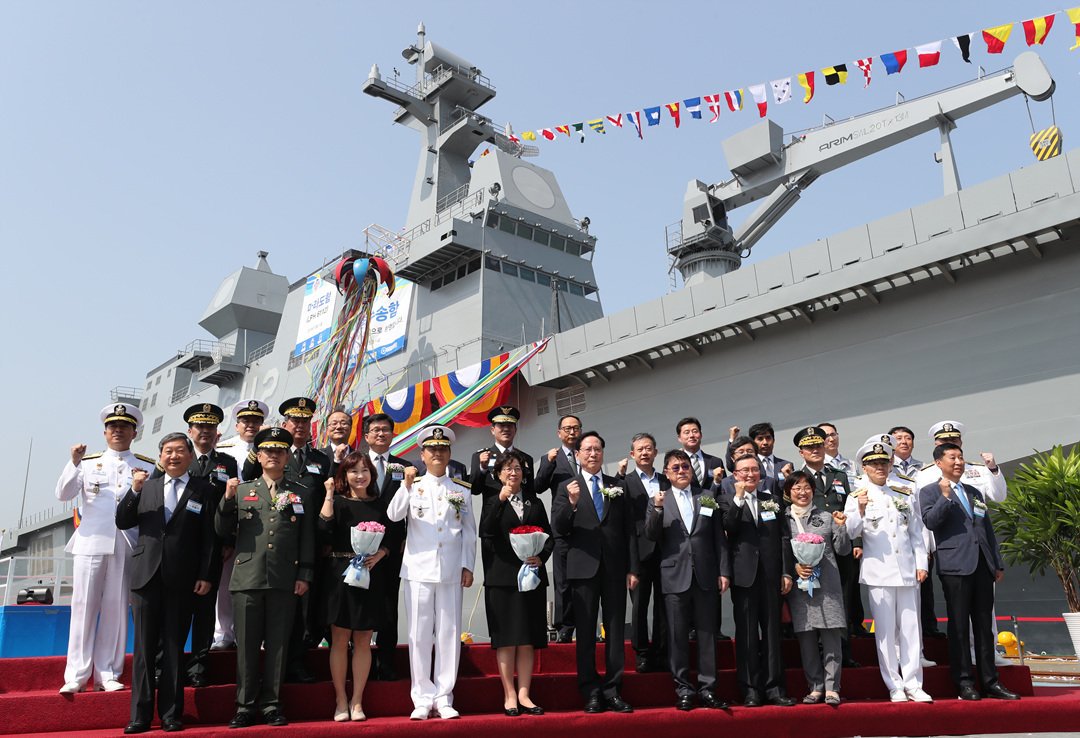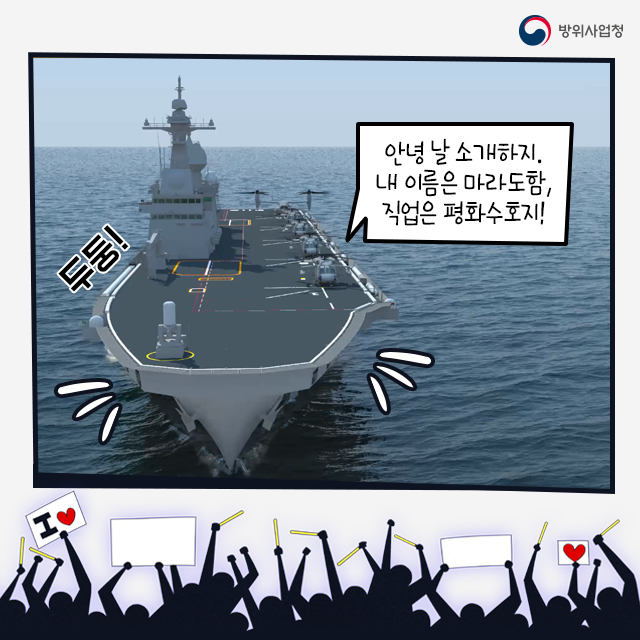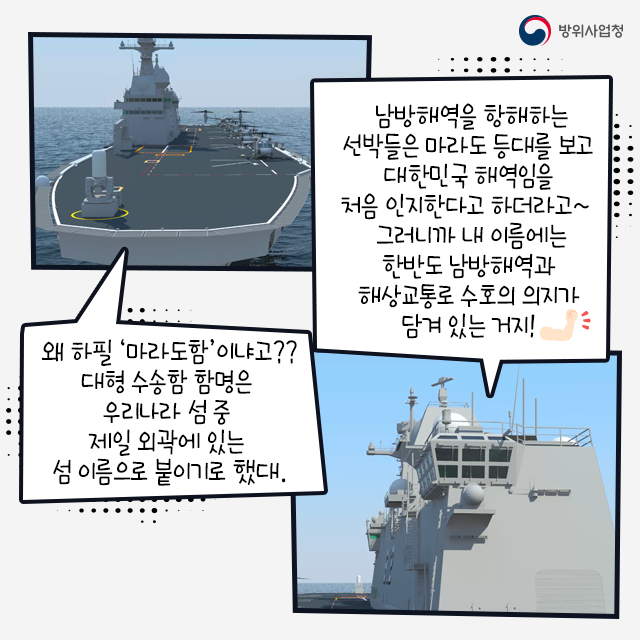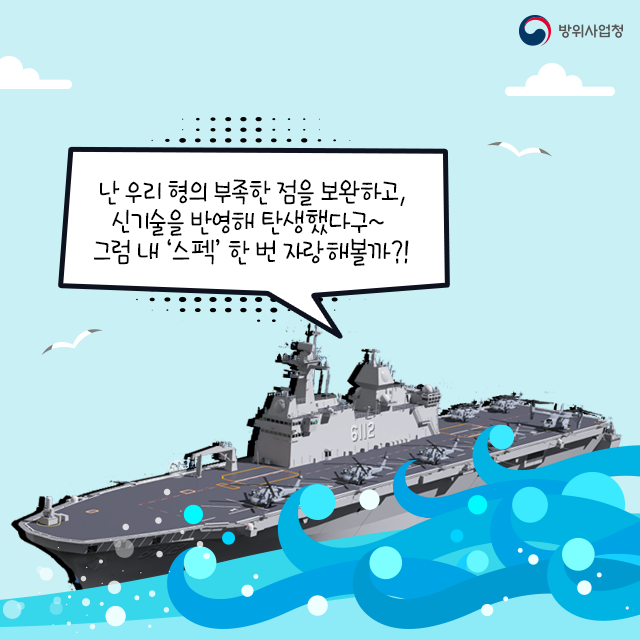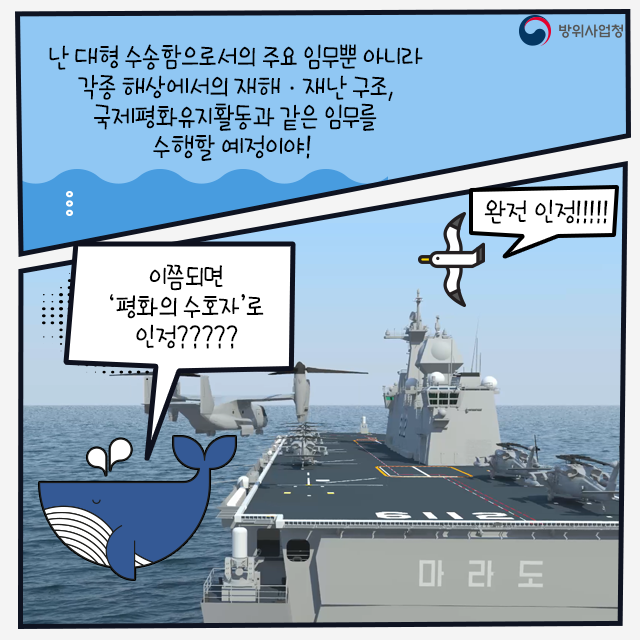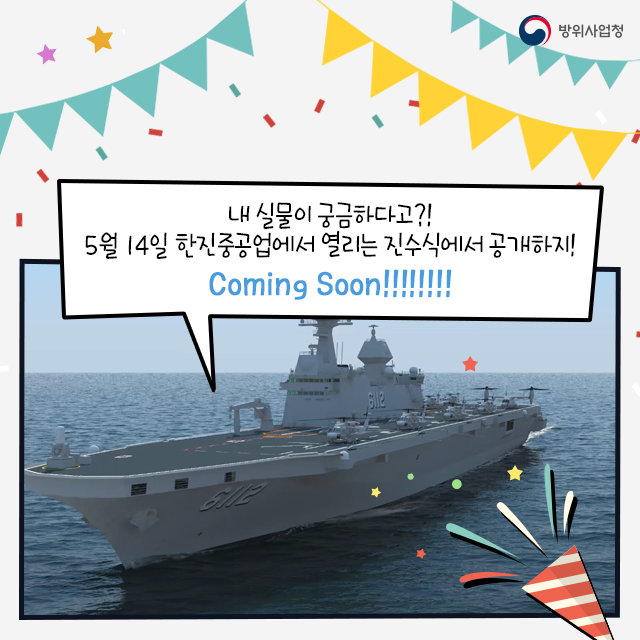 DAPA images

---