---
The Russian Navy's Project 11435 aircraft carrier Admiral Kuznetsov will be armed with a Poliment-Redut shipborne air defense missile system during its upgrade, a source close to Russia's shipbuilding industry said.
---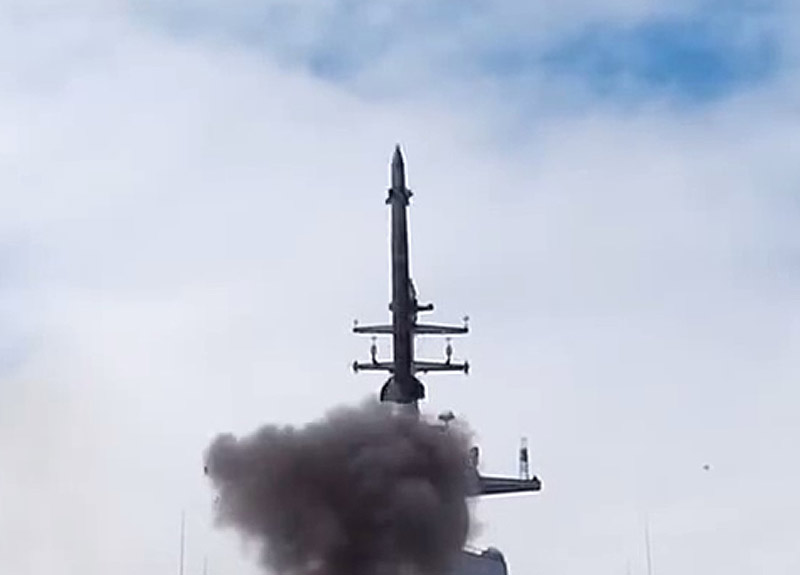 Launch of the "Redut" SAM missile during tests from Corvette "Sobystvitelny" Project 20380. Picture via militaryrussia.ru
---
"The ship is planned to be equipped with an advanced Poliment-Redut long-range air defense missile system in addition to Pantsyr [NATO reporting name: SA-22 Greyhound] systems. The aircraft carrier Admiral Kuznetsov carries Kinzhal [SA-N-9 Gauntlet] air defense missile systems and Kortik [CADS-N-1 Kashtan] antiaircraft missile/gun systems," the source said.

Russia's Almaz-Antey Corporation that is the developer of the Poliment-Redut system declined to comment on the information provided by the source.

As Navy Deputy Commander-in-Chief for Armament Viktor Bursuk said earlier, work onboard the aircraft carrier Admiral Kuznetsov will start in May and the ship will receive advanced Pantsyr-M systems. According to him, the ship will receive new boilers and new flight support systems, in particular, landing, surveillance and control equipment. The aircraft carrier is planned to re-enter service in 2021.

Another source close to the shipbuilding industry told TASS that the ship's arresting gear, radio beacons, signaling equipment and communication system would be replaced. The source also said that "the Granit [SS-N-19 Shipwreck] missile system will not be replaced."

According to public sources, the Poliment-Redut shipborne air defense missile system has a maximum aerial target engagement range of 150 kilometers (93 miles). The system has been mounted on the Project 22350 lead frigate Admiral Gorshkov, the trials of which are planned to be completed this summer.

The Admiral Kuznetsov aircraft carrier of project 11435 is designated to win supremacy at sea and in the air to promote sustainability of the naval forces, strike at adversary positions, and support landing operations. The warship became operational in 1990. Its full displacement is 58 thousand tons and the length is 304.5 meters. Full speed power is 200000HP and the speed is close to 30 knots. Besides an air wing of 24-26 aircraft and 12 helicopters, the Admiral Kuznetsov is armed with anti-ship and anti-aircraft missiles. It has a skijump and 2 aircraft elevators to facilitate the operations of the aviation. The crew of the carrier comprises 1300 men and the personnel of the air wing is 660 people.
---
© Copyright 2018 TASS. All rights reserved. This material may not be published, broadcast, rewritten or redistributed.
---
Comment by Navy Recognition
The overhaul of the Admiral Kuznetsov aircraft carrier of project 11435 will begin in May. It was previously announced that it would also be upgraded with Pantsyr-M system. Admiral Kuznetsov aircraft carrier is currently fitted with 6x AK-360 CIWS (30mm Gatling guns) and 8x CADS-N-1 Kashtan CIWS (a system combining 30mm Gatling guns and 3K87 Kortik SAM). The Panstyr-M is likely to replace the ageing Kashtan system.

Almaz-Antey aerospace defense group Designer General Pavel Sozinov said previously that Russia's Poliment-Redut seaborne missile system will be armed with three types of missiles unified with the S-350 Vityaz ground-based air defense system. It will likely replace the 3K95 "Kinzhal" (Russian: Кинжал – dagger) currently fitted, which is the naval version of the Tor missile system (SA-N-9 Gauntlet).

---