---
Russia's Navy will receive Poseidon (Status-6) nuclear-powered unmanned underwater vehicles under the current state armament program for 2018-2027, a source in Russia's defense industry told TASS. They will be carried by a new nuclear-powered submarine currently under construction at the Sevmash Shipyard, the source added.
---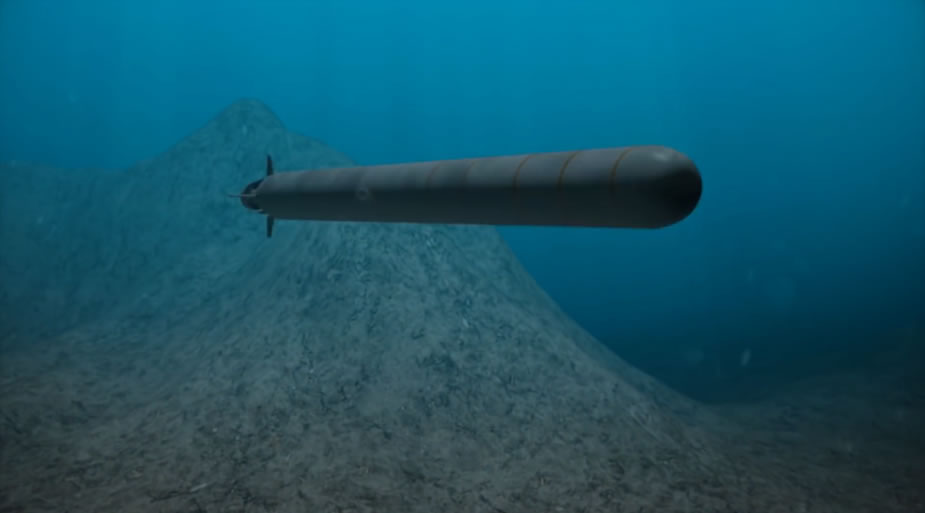 The Poseidon/Status-6 (NATO: KANYON) intercontinental, nuclear-armed, nuclear-powered, undersea autonomous torpedo
---
"The Poseidon system has been included in the state armament program through 2027 and is expected to be put into operation with the Navy before the program expires," the source said. "The system is composed of several high-speed deep-water torpedoes with a small nuclear power plant. They will be carried by a nuclear-powered submarine being built by the Sevmash Shipyard," the source added.

The source did not specify the type of the nuclear-powered submarine but said that "it will not be a fifth-generation Husky-class submarine."

TASS does not have any official confirmation of the information.
---
Russian MoD video showing Rubin's Klavesin-2R-PM UUV (first) and the nuclear-armed Kanyon/Status-6 long range torpedo/drone

---
The Sevmash Shipyard is building two special nuclear-powered submarines at least. According to public sources, the construction of the Project 949A submarine Belgorod was suspended, and then resumed in December 2012 under Project 09852. It will carry manned and unmanned deep-water research vehicles.

Another special nuclear-powered submarine Khabarovsk was laid down in July 2014. According to unconfirmed information, the submarine is being built under Project 09851 and can carry both various deep-water vehicles and the new weapon system.

The development of the unmanned underwater vehicle with a nuclear power plant was unveiled by Russian President Vladimir Putin during his Address to the Federal Assembly in February 2018. Later, Navy Commander-in-Chief Vladimir Korolyov said that the weapon would allow the Navy to accomplish a wide range of missions in water areas near the enemy's territory. The guidance system will aim the advanced system in an accurate manner.
---
© Copyright 2018 TASS. All rights reserved. This material may not be published, broadcast, rewritten or redistributed.
---
Navy Recognition comment:
The Poseidon (formerly known as Status-6 / NATO designation Kanyon) is a self-propelled underwater craft to be carried by two submarines under construction - the Khabarovsk and the Belgorod. Open sources said each submarine will carry three-ten underwater craft. They resemble a big 20-meter long torpedo with a diameter of close to 1.5 meters. The range is up to 10 thousand kilometers. The craft has several compartments. It is likely a universal platform which can carry various modules depending on the mission. They can be nuclear or conventional charges, radio-electronic warfare or reconnaissance means.
Status-6 can engage in various missions ranging from destruction of important economic facilities on the coast up to the fight with aircraft-carrying forces. There are no weapons in the world at present which can counter the craft operating at major depths and at high speed
---