---
The United States Navy plans to purchase up to 20 new FFG(X) frigates that are more lethal than the present Littoral Combat Ships (LCS). GE's LM2500 family of proven marine gas turbines includes the base LM2500 (25 MW*), the LM2500+ (30 MW) and the LM2500+G4 (35 MW). This family meets the U.S. Navy's top requirements for the FFG(X) frigate by having a best-in-class power density, having the only gas turbines grade A shock-tested, and each can meet the ship's speed and power needs.
---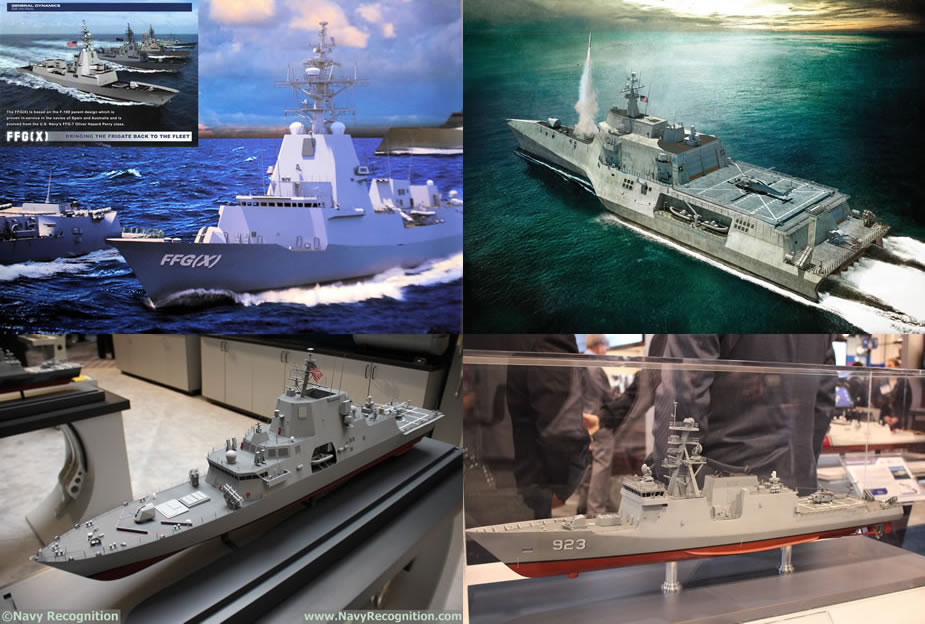 Four of the five FFG(X) designs still competing

---
GE already provides 97% of the commissioned propulsion gas turbines in the U.S. Navy fleet, demonstrating experience at sea on a number of considered FFG(X) frigate platforms.
The U.S. Navy's FFG(X) frigate request for information outlined tiered ranking of key frigate attributes (see Figure 1). GE analyzed market data to better understand how its engines compare to the needs of the past frigates1. Amongst the findings: gas turbines make up 80% of the prime mover market and are used in a variety of configurations often with diesel engines (i.e. combined diesel and gas turbine); and, diesel only applications (i.e. combined diesel and diesel) make up the other 20%, and are typically used for 4,000T ships or smaller.
Gas turbines are preferred when lower weight and volume, higher availability, lower maintenance requirements and lower noise are needed. The average top frigate speed is between 28 to 30 knots, excluding the LCS, and all achieved that speed with a 35 MW or smaller gas turbine (LM2500+G4 or smaller).
---
Our video coverage on FFG(X) next generation frigate program at Sea Air Space 2018

---
GE ensures that the right gas turbine power options, technology advancements, and superior maintenance and services are available to customers throughout the globe. Here is an assessment of how GE gas turbines match the FFG(X) key attributes—requirements that are anticipated to be common to many of the world's future frigates.
- Multiple power choices: GE offers six efficient propulsion gas turbines that range from 4.5 MW up to 52 MW, enabling architects to design ships according to specific mission profiles.
- Reliable and experienced: The extensive field experience of the LM2500 fleet across so many marine applications has resulted in a highly refined design. To date, 1,450 GE gas turbines have been delivered onboard 646 naval ships serving 35 navies worldwide. The large worldwide fleet of GE marine and industrial gas turbines has a 98% availability and 99% reliability.
- Fleet commonality: A single gas turbine affords a support pool of standardized spare parts, and a common gas turbine infrastructure and training program for these fleets. With a GE gas turbine, the U.S. Navy realizes significant interoperability benefits with other U.S. Navy ships and international partners. This is critical in combat situations when emergency spares and service is required afloat or on-shore.
- Superior, worldwide service: GE has nine depot service centers that provide full overhaul capability for these engines worldwide, avoiding the need to send gas turbines overseas for maintenance.
- Technology infusion: The U.S. Navy, General Dynamics Bath Iron Works and GE have collaborated on a new, one-piece composite carbon fiber enclosure for the LM2500. This composite module will improve power density to 30% better than the competition by decreasing the weight by 2,500 kg. It is designed and performance-verified in accordance to a complete set of U.S. Navy military and shock specifications. Digital sensors and components such has transducers, heaters, flame and ice detectors also are being modernized.
- Hybrid Electric Drive (HED): GE offers gear and shaft mounted hybrid electric drive solutions for efficient, low noise propulsion. GE is the only HED supplier operating on a U. S. Navy combatant (LHD 8), and is the only company offering a gas turbine and hybrid electric drive solution.
---