---
Textron Systems' Ship-to-Shore Connector began on-water testing last month. The Ship-to-Shore Connector is the U.S. Navy's replacement for the Landing Craft, Air Cushion. During on-water testing, Textron Systems and the U.S. Navy are testing initial craft functionality. This will be followed by Builder's Trials.
---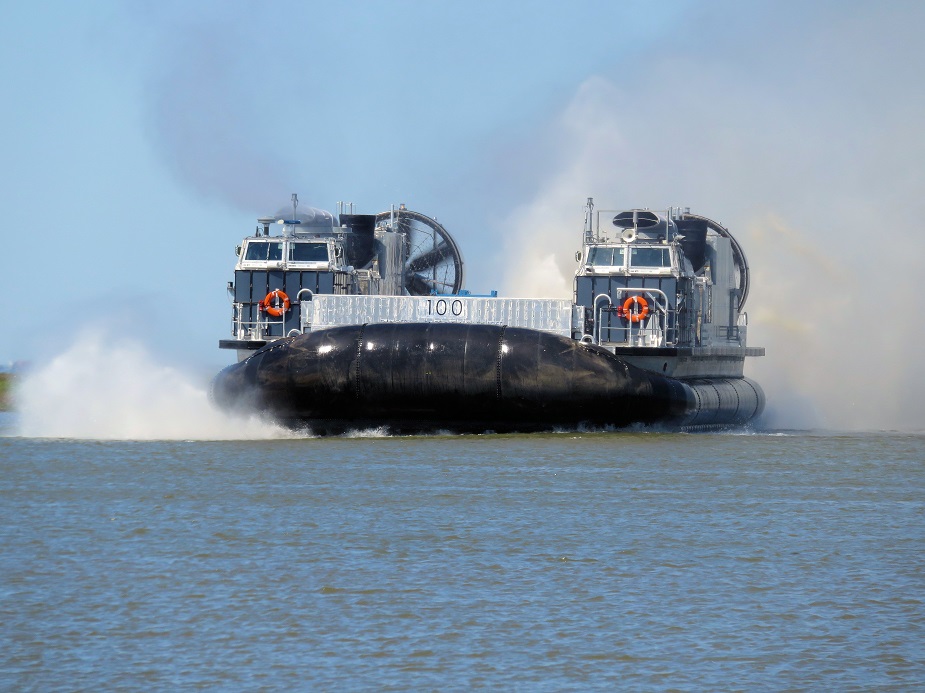 LCAC 100, the first SSC, during on water testing. Textron picture.

---
Questions and answers with Scott Allen, Vice President of Marine Systems at Textron Systems.

Navy Recognition (NR): When did the sea trials started and where?
Scott Allen (SA): The Ship-to-Shore Connector's on-water testing began on April 10, 2018, just outside of the Textron Systems' shipyard in Louisiana.
NR: Are these trials conducted by Textron exclusively or is the U.S. Navy involved as well? In other words, can the current trials be referred as "Builder Trials" and will there be some "Acceptance Trials" at some point?
SA: During on-water testing, Textron Systems and the U.S. Navy will test initial craft functionality and will begin preparation for Builder's Trials. Builder's Trials will be conducted with Textron Systems and U.S. Navy personnel on-board. Acceptance Trials will be similar to Builder's Trials, but will also include U.S. Navy Board of Inspection and Survey personnel.
NR: How long are these trials expected to last? When will the first SSC be delivered to the U.S. Navy and when is it expected to become operational
SA: We expect to begin Acceptance Trials within the next 1-2 months. The first SSC will be delivered to the U.S. Navy by the end of this summer.
NR: What's next for Textron Systems?
SA:Textron Systems is currently in discussions with the U.S. Navy regarding the most recent request for fiscal year 2017/2018 proposal, which is planned for 10 additional craft.
---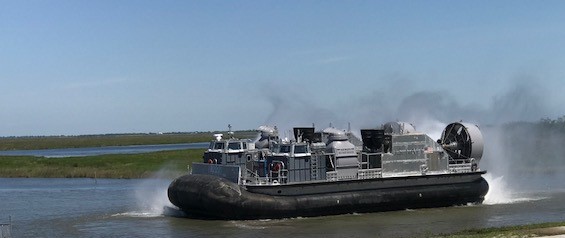 LCAC 100, the first SSC, during on water testing. Textron picture.
---
About the SSC:
SSC craft will serve as the evolutionary replacement for the Navy's existing fleet of LCACs, which are nearing the end of their service life. Their mission is to land surface assault elements in support of operational maneuver from the sea, at over-the-horizon distances, while operating from the Navy's amphibious ships and mobile landing platforms. Like earlier LCACs, these craft also will be used for humanitarian and disaster relief missions.

The new air cushion vehicles, offering increased reliability and availability, are designed for a 30-year service life. They will use more corrosion-resistant aluminum in the hull than current LCAC, as well as composites in the propeller shroud assembly and shafting to increase craft availability and lower life-cycle maintenance costs. These craft also will incorporate an advanced skirt, a pilot/co-pilot arrangement, a cargo deck capable of carrying a 74-ton payload (up to M1A1 Tank) at speeds of more than 35 knots. With an enclosed personnel transport module loaded, it can carry up to 145 combat-equipped Marines or 108 casualty personnel. It measures 90 feet bow to stern, and 40 feet port to starboard.
Construction of LCAC 100 began Nov. 17, 2014.
---