---
Babcock International, the highly-skilled engineering service company, is showcasing its design of modern multi-role Offshore Patrol Vessels (OPVs) with an emphasis on hull forms at the OPV 2018 conference and exhibition, in London.
---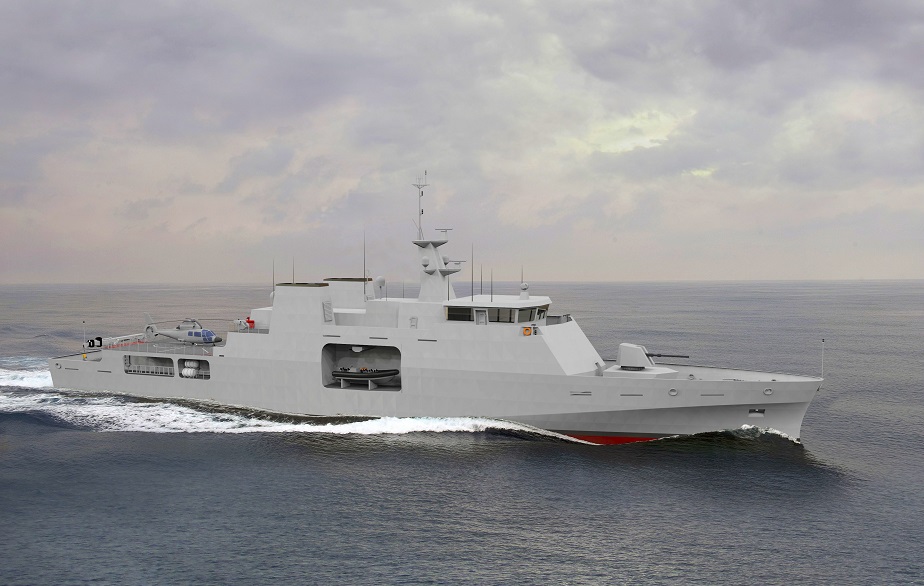 Babcock Defender 90 OPV design. Babcock picture.

---
Well placed to support global navies, Babcock will discuss the importance of innovation as the company promotes its latest programmes, design and build capability, through-life support and marine training for the general purpose frigate market.
With a portfolio of class-leading 50m inshore patrol vessels and 90m OPVs, of which Babcock is in the finishing stages of completing a fourth ship for the Irish Naval Service's OPV Fleet, the international conference will provide a platform for the company to display innovative hull forms – developed for its Defender range of multi-role OPVs and its most recently launched Arrowhead 120 and 140 ships – all underlining the company's design credentials.
Understanding the global demand for smaller, more versatile crafts, Babcock is demonstrating its universal capability to design new ships which meet customer requirements for ever more capability and operational flexibility from a single platform. Its Defender and Arrowhead portfolio enable design variants, bespoke reconfigurations and armaments solutions to deliver exactly what its customers want – wherever in the world they operate.
Babcock's multi-role vessel hull form is a distinctive yet traditional design that has been optimised with MARIN for seakeeping, fuel efficiency and launch and recovery of off-board assets. And the company's blend of commercial and military technology provides a robust and cost effective design. All backed by a comprehensive through-life support and network of global naval training, Babcock provides the full package of design, build and support services.
Simon Knight, Babcock's Naval Engineering Director said: "Babcock's flexible approach means that we can provide an extensive range of global support to a wide range of maritime protection and enhancement organisations.
"This includes in-country maintenance, technology transfer, training or full design and build from our own or local facilities. With many decades of experience of delivering in the OPV market, we look forward to profiling our platform range and capability."
---