---
India's Indigenous Aircraft Carrier (IAC) project has been launched in 2013 and the first Indian home-made aircraft carrier is scheduled to be operational by 2021. Nowadays, the Indian Navy is determined to pursue this programme by ordering a second indigenous aircraft carrier. Yet, this project may stay at its embryonic stage for a while.
---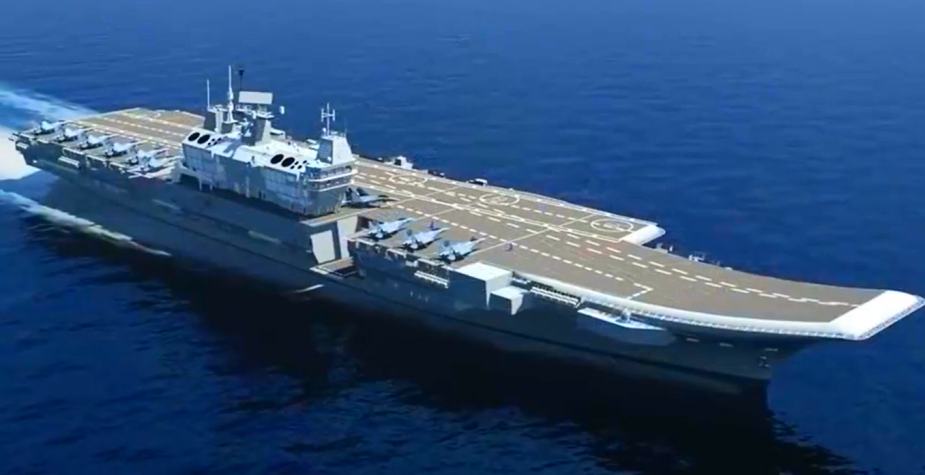 Vikrant-class aircraft carrier design project (Picture source : defenceforumindia)
---
The Indian Navy is indeed trying to pursue a second indigenous aircraft carrier (IAC-2) to reinforce its sea control and its ambitions in the Indian Ocean. But to be able to do so, it has to convince the government and the MoD about its operational efficiency and its utility.
The Indian Navy is already in posses of a Kiev-class aircraft carrier, INS Vikramaditya (ex Admiral Gorshkov) and will soon acquire its first IAC, the Vikrant, which is a 37,500-tonne Projet 71 STOBAR-equipped aircraft carrier. This first IAC, which is under construction at Cochin Shipyard Limited, was supposed to be delivered in 2016. But due to financial problems, it has been delayed to 2021.
The IAC-2 carrier, already named Vishal, should have come after the Vikrant at Cochin Shipyard Limited, expected to be finished by 2032. Both IACs are scheduled to be equipped with an Aviation Facility Complex (AFC) designed by Nevskoye Design Bureau (NDB), enabling them to accommodate 40 fighter jets and helicopters, all to counter Chinese naval ambitions (particularly in the Indian Ocean region).
The intended carrier has not even managed to obtain an 'in-principle' or 'acceptance of necessity' approval from the MoD for its construction, as it continues to face quiet opposition even from within the navy, going about the cost (up to $US 15-20 billion) and the necessity of such a project. In addition to that the detractors of the project have dismissed the IAC-2 as vulnerable to multitiered carrier-killer anti-access/area denial (A2/AD), anti-ship ballistic missile systems like the Chinese Dong Feng 21D (DF-21D), which has a 1,500 km range.
---