---
The U.S. Navy has awarded Northrop Grumman a $US 55 million contract, for modification to a previously awarded contract, for the providing of 5 MQ-8C Fire Scout unmanned air systems (helicopters) and 2 lightweight fuel cells. Work is scheduled to be done by 2021.
---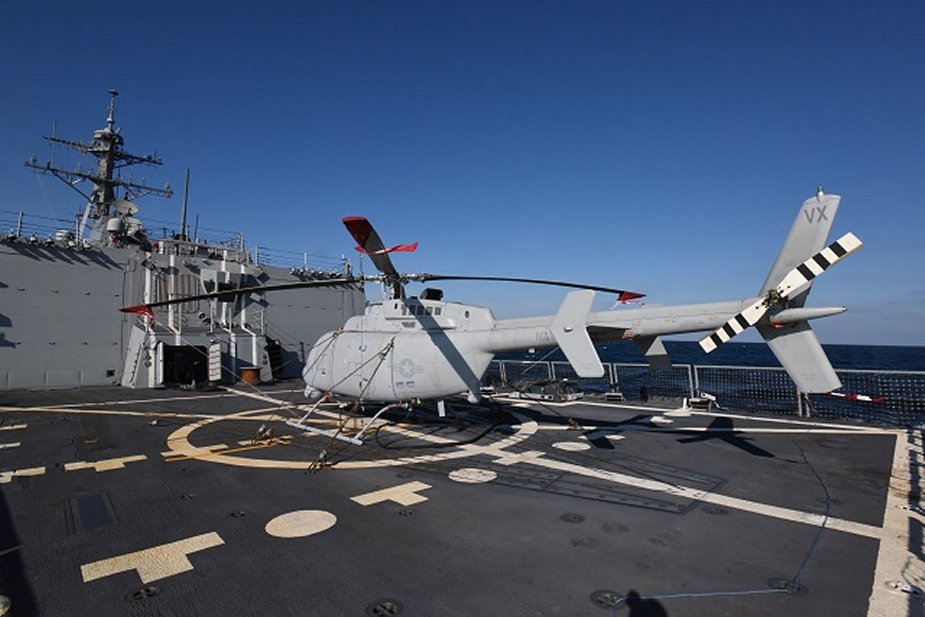 The MQ-8C Fire Scout conducted test operations aboard USS Jason Dunham (DDG 109) Dec. 17 off the coast of Virginia. During the five-day underway period, the MQ-8C completed its first ship-based flights to prepare for operational test in 2015 (Picture source : Northrop Grumman)
---
The Fire Scout is an unmanned helicopter system that provides real-time Intelligence, Surveillance and Reconnaissance (ISR), target-acquisition, laser designation and battle management to tactical users without relying on manned aircraft or space-based assets. The MQ-8C Fire Scout's airframe is based on the commercial Bell 407, a mature helicopter with more than 1,400 airframes produced and over 4 million flight hours. The MQ-8C Fire Scout is an upgrade to the existing "B" variant, which first deployed in 2009. With its larger airframe and its ability to autonomously take-off and land on any aviation-capable ship, the "C" can fly nearly twice as long and carry three times more payload than its predecessor.
Fire Scout autonomous helicopters like the MQ-8C already demonstrated targeting capabilities at-sea, over land, teaming with manned assets, and integrating new technologies. Teamed with the manned MH-60 helicopter, the MQ-8 Fire Scout extends the range and endurance of ship-based operations. It provides unique situational awareness and precision target support for the Navy.
---